The Shadow
A mysterious black caped criminal is blackmailing wealthy citizens.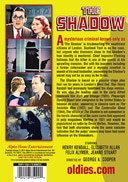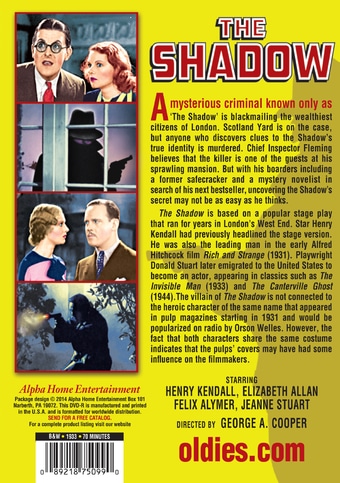 SALE:
$

5

.95
List Price:
$7.98
You Save:
$2.03 (25% Off)
Available:
Usually ships in 1-3 business days
Also released as:
DVD-R Details
Rated: Not Rated
Run Time: 1 hours, 10 minutes
Video: Black & White
Encoding: Region 0 (Worldwide)
Released: October 28, 2014
Originally Released: 1933
Label: Alpha Video
Performers, Cast and Crew:
Entertainment Reviews:
It has enough of the innocent exoticism and splendor of silent thrillers to suggest a continuity with the past missing from most other movies; all that's required is a capacity to sit back and dream.
Full Review
Rating: 3/5
-- A pleasant, eye-pleasing movie.
Full Review
Despite similarities as a vigilante creature of the night, however, the Shadow -- a character that enjoyed its greatest success in radio after being created in pulp novels -- lacks the visceral appeal of Batman and won't strike the same chord.
Very underrated and incredibly entertaining...
Full Review
Baldwin's low-key performance lacks charisma, Lone alternates between lip-smacking villainy and camp humour, and Miller is chiefly a clothes-horse for a series of slinky '30s frocks.
Full Review
This thing is all packaging and no content, or, dare I say it, all shadow and no substance.
Full Review
Rating: 3.5/5
-- The grandiose presence of Alec Baldwin manages to give cohesion to this little gem. [Full Review in Spanish]
Full Review
Description by OLDIES.com:
A mysterious criminal known only as 'The Shadow' is blackmailing the wealthiest citizens of London. Scotland Yard is on the case, but anyone who discovers clues to the Shadow's true identity is murdered. Chief Inspector Fleming believes that the killer is one of the guests at his sprawling mansion. But with his boarders including a former safecracker and a mystery novelist in search of his next bestseller, uncovering the Shadow's secret may not be as easy as he thinks.
The Shadow is based on a popular stage play that ran for years in London's West End. Star Henry Kendall had previously headlined the stage version. He was also the leading man in the early Alfred Hitchcock film Rich and Strange (1931). Playwright Donald Stuart later emigrated to the United States to become an actor, appearing in classics such as The Invisible Man (1933) and The Canterville Ghost (1944). The villain of The Shadow is not connected to the heroic character of the same name that appeared in pulp magazines starting in 1931 and would be popularized on radio by Orson Welles. However, the fact that both characters share the same costume indicates that the pulps' covers may have had some influence on the filmmakers.
Keywords:
Similar Products
Product Info
Sales Rank: 21,343
UPC: 089218750990
Shipping Weight: 0.25/lbs (approx)
International Shipping: 1 item