Rare TV Mystery: Herald Playhouse / Police Station / Inspector Mark Saber / The Visitor
Four lost TV shows from TV's Golden Age - "Herald Playhouse", "Police Station", "Inspector Mark Saber" and "The Visitor".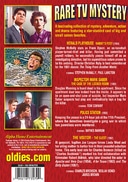 Price:
$

6

.90
List Price:
$8.98
You Save:
$2.08 (23% Off)
Available:
Usually ships in 5-7 business days
DVD-R Details
Rated: Not Rated
Run Time: 1 hours, 44 minutes
Video: Black & White
Encoding: Region 0 (Worldwide)
Released: April 29, 2014
Originally Released: 1952
Label: Alpha Video
Performers, Cast and Crew:
Entertainment Reviews:
Description by OLDIES.com:
HERALD PLAYHOUSE (SCHLITZ PLAYHOUSE OF STARS) - Rabbit's Foot (1954):
Stephen McNally stars in this suspense thriller as Frank Dyson, an ex-baseball player-turned-thief and killer. Having just committed a payroll robbery, he successfully passes himself off as an investigating detective, but his superstitious nature proves to be his undoing. Director Christian Nyby is best remembered for the 1951 classic
The Thing From Another World.
Starring Stephen McNally and Paul Langton.
INSPECTOR MARK SABER - The Case of the Locked Room (1952): Douglas Manning is found dead in his apartment. Since the apartment door was locked from the inside, it appears to be an open-and-shut case of suicide, but Inspector Mark Saber suspects foul play and methodically lays a trap for the killer. Tom Conway (1904-1967) is best remembered for his role as "The Falcon" in the big-screen mystery series, which he took over from his real-life brother, Oscar-winning actor George Sanders. Starring Tom Conway.
POLICE STATION (1959): Keeping the peace is a 24-hour job at the 11th Precinct, where the detectives investigate a gang war in which two juveniless were murdered. Starring Baynes Barron, Larry Kerr, Henry Beckman.
THE VISITOR - The Guest (1952): At gunpoint, fugitive Joe Langan forces Linda West and her ailing mother to harbor him in their peaceful suburban home. This early lead role for Charles Bronson (billed as "Charles Buchinski") marked his first collaboration with filmmaker Robert Aldrich, who later directed the actor in Apache and Vera Cruz4 for Texas (1963) and the blockbuster The Dirty Dozen (1967).
Keywords:
Movie Lovers' Ratings & Reviews:
Customer Rating:
Based on 2 ratings.

Rare TV Mystery
Movie Lover:
terence brookes
from
BARROW IN FURNESS, CUMBRIA GB
-- November, 29, 2016
Very good collection with good story lines and the actors work well together
Similar Products
Product Info
Sales Rank: 14,875
UPC: 089218735799
Shipping Weight: 0.25/lbs (approx)
International Shipping: 1 item