Man from U.N.C.L.E. - Complete Series (41-DVD)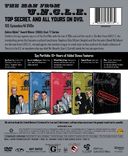 Price:
$

82

+ $5 additional shipping
List Price:
$89.99
You Save:
$7.99 (9% Off)
Available:
Usually ships in 2-4 business days
DVD Details
Number of Discs: 41
Rated: Not Rated
Run Time: 87 hours, 52 minutes
Video: Black & White / Color
Encoding: Region 1 (USA & Canada)
Released: November 4, 2014
Originally Released: 2007
Label: Warner Home Video
Performers, Cast and Crew:
Entertainment Reviews:
Description by OLDIES.com:
Robert Vaughn and David McCallum star as a team of secret agents battling the global crime organization THRUSH. Under the aegis of the United Network Command for Law and Enforcement-- U.N.C.L.E.--the dapper, suave Napoleon Solo (Vaughn) and the equally dashing Illya Kuryakin (McCallum) jet to exotic locations, defending the world from evil, chaos and bad taste in this hit spoof on the espionage genre. 105 episodes on 41 DVDs, with bonus content.
Keywords:
Similar Products
Formats:
Genres:
Product Info
Sales Rank: 4,597
UPC: 883929395132
Shipping Weight: 3.23/lbs (approx)
International Shipping: 41 items