Public Prosecutor - Volume 2
You'll actually assist the great public prosecutor, Stephen Allen in convicting the city's worst offenders in four more episodes of this long lost television series.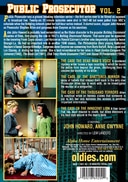 SALE:
$

5

.95
List Price:
$7.98
You Save:
$2.03 (25% Off)
Available:
Usually ships in 1-3 business days
More products that might interest you:
Public Prosecutor - Volume 1 (DVD-R)
$5.95
Related products:
DVD Features:
Episodes originally aired 1947-1948
Rated: Not Rated
Run Time: 1 hours, 10 minutes
Video: Black & White
Released: February 26, 2013
Originally Released: 1947
Label: Alpha Video
Encoding: Region 0 (Worldwide)
Audio:

Dolby Digital 2.0 Stereo - English
Performers, Cast and Crew:
Entertainment Reviews:
Description by OLDIES.com:
Public Prosecutor
was a ground breaking television series -- the first series ever to be filmed as opposed to broadcast live. Twenty-six 20 minute episodes were shot in 1947-48 but were pulled from NBC's schedule when the fledgling network opted for half-hour series instead. It starred suave, dapper John Howard as Prosecutor Stephen Allen and gorgeous Anne Gwynne as his secretary.
Actor John Howard is probably best remembered as the titular character in the popular Bulldog Drummond series of films, first playing the role in 1937's Bulldog Drummond Returns. That same year he appeared in the towering Frank Capra classic Lost Horizon as Ronald Colman's brother who desperately wants to leave Shangri-La. He had an important role in another 1940 classic, The Philadelphia Story playing Katherine Hepburn's fiance George Kittredge. Gorgeous Anne Gwynne ran screaming from Boris Karloff, Bela Lugosi and Lon Chaney, Jr. during her busy career. She is best remembered for her roles in Flash Gordon Conquers The Universe (1940), The Black Cat (1941), Dick Tracy Meets Gruesome (1947) and House Of Frankenstein (1944).
THE CASE THE DEAD MAN'S VOICE: A murdered mystery writer leaves a tape recording in which he taunts the police from beyond the grave, challenging them to uncover the identity of his killer.
THE CASE OF THE SHATTERED MIRROR: The spray of bullets that missed their mark is the only clue Prosecutor Allen has to work with, as he investigates the murder of a songwriter.
THE CASE OF THE THOUSAND TERRORS: Allen is skeptical when an heiress claims that someone is out to kill her and believes the woman is omitting important information.
THE CASE OF THE INNOCENT LION: A lion tamer that has been mauled to death, but Allen discovers a six-inch stab wound in the man's back.
Keywords:
Similar Products
Product Info
Sales Rank: 30,294
UPC: 089218692092
Shipping Weight: 0.25/lbs (approx)
International Shipping: 1 item