Border Devils
A righteous cowboy infiltrates a gang of murderers in an effort to uncover the killer of his best friend.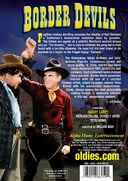 SALE:
$

5

.95
List Price:
$7.98
You Save:
$2.03 (25% Off)
Available:
Usually ships in 1-3 business days
DVD Features:
Rated: Not Rated
Run Time: 1 hours
Video: Black & White
Released: August 30, 2011
Originally Released: 1932
Label: Alpha Video
Encoding: Region 0 (Worldwide)
Audio:

Dolby Digital 2.0 Stereo - English
Performers, Cast and Crew:
Entertainment Reviews:
Description by OLDIES.com:
Fugitive cowboy Jim Gray assumes the identity of Neil Denham a Cattlemen's Association detective slain by gunmen. The killers are agents of a sadistic Mandarin warlord known only as "The General." Jim is able to infiltrate the gang but is then faced with a terrible dilemma. He must kill his best friend or be exposed as a traitor to the trigger-happy "General."
The filmmaking Weiss Brothers and their Artclass Pictures Corporation turned out some quality "B" films, and the four Harry Carey Westerns of 1931-32 fall into that category. Each contained some unusual story element. Border Devils generates interest with its use of a colorful Chinese villain, played by screen veteran Tetsu Komai with his accustomed malevolence. Carey, always among the most personable cowboy heroes, is extremely effective in this taut, suspenseful western.
Product Description:
Weather-beaten Harry Carey stars as an old-time Westerner who ends up in jail on a trumped-up charge. Carey busts out of the calaboose to prove his innocence and unmask the genuine culprit, Albert J. Smith. It turns out that Smith is in league with a mysterious frontier Fu Manchu, who's been operating a lucrative alien-smuggling racket. Our hero likewise reveals the identity of the mystery villain, who spends most of the picture as a mere shadow on the wall. Based on a novel by Murray Lenister, BORDER DEVILS evidently underwent a great deal of rewriting from script to screen, if its pressbook (containing an entirely different synopsis) is any indication.
Keywords:
Similar Products
Product Info
Sales Rank: 2,199
UPC: 089218662590
Shipping Weight: 0.25/lbs (approx)
International Shipping: 1 item