Young western hero rides the range with his kid sister Calamity in four episodes of the vintage TV series.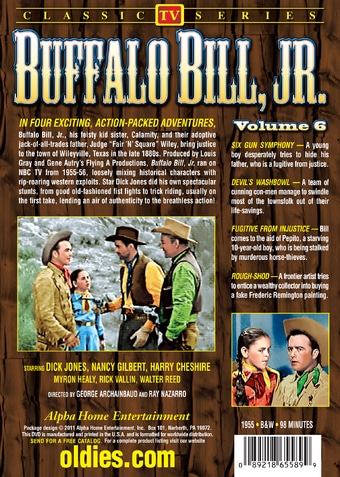 SALE:
$

5

.95
List Price:
$7.98
You Save:
$2.03 (25% Off)
Available:
Usually ships in 1-3 business days
More products that might interest you:
Classic Western Collection: 20 Full Color Vintage Movie Postcards (Movie Collectible)
$7.98
DVD Features:
Rated: Not Rated
Run Time: 1 hours, 38 minutes
Video: Black & White
Released: May 31, 2011
Originally Released: 1955
Label: Alpha Video
Encoding: Region 0 (Worldwide)
Audio:

Dolby Digital 2.0 Stereo - English
Performers, Cast and Crew:
Entertainment Reviews:
Description by OLDIES.com:
In four exciting, action-packed adventures, Buffalo Bill, Jr., his feisty kid sister, Calamity, and their adoptive jack-of-all-trades father, Judge "Fair 'N' Square" Wiley, bring justice to the town of Wileyville, Texas in the late 1880s. Produced by Louis Gray and Gene Autry's Flying A Productions, "Buffalo Bill, Jr." ran on NBC TV from 1955-56, loosely mixing historical characters with rip-roaring western exploits. Star Dick Jones did his own spectacular stunts, from good old-fashioned fist fights to trick riding, usually on the first take, lending an air of authenticity to the breathless action!
Six Gun Symphony: A young boy desperately tries to hide his father, who is a fugitive from justice.
Devil's Washbowl: A team of cunning con-men manage to swindle most of the townsfolk out of their life-savings.
Fugitive From Injustice: Bill comes to the aid of Pepito, a starving 10-year-old boy, who is being stalked by murderous horse-thieves.
Rough-Shod: A frontier artist tries to entice a wealthy collector into buying a fake Frederic Remington painting.
Product Description:
As a production of Gene Autry's Flying A banner, created by Louis Gray, the western series BUFFALO BILL, JR. originally ran on NBC from 1955-56. Set in 1880s Wileyville, Texas, it starred Dick Jones and Nancy Gilbert as Buffalo Bill and Calamity, the children of a local judge, who spent episodes engaging in various adventures. Among other elements, the program was noteworthy for combining real-life historical figures and events with fictional characters. This box set offers four original episodes from the program: SIX GUN SYMPHONY, where a boy attempts to hide his fugitive father; DEVIL'S WASHBOWL, where a group of con men attempt to swindle the local townspeople out of their life savings, FUGITIVE FROM INJUSTICE, where Buffalo aids Pepito, a young Mexican boy being pursued by horse thieves, and ROUGH-SHOT, where a fast-draw frontier artist attempts to con a wealthy art connoisseur into buying a fake Frederic Remington painting.
Keywords:
Similar Products
Product Info
Sales Rank: 6,903
UPC: 089218655899
Shipping Weight: 0.25/lbs (approx)
International Shipping: 1 item