Jeepers Creepers 3
R
Third Time's the Charm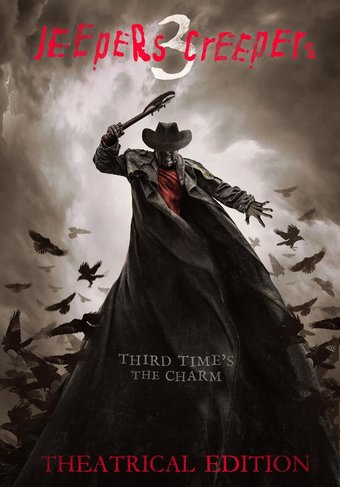 SUPER SAVINGS:
$

12

.50 Limited Time Only
List Price:
$14.98
You Save:
$2.48 (17% Off)
Available:
Usually ships in 2-4 business days
Different formats available:
DVD Features:
Rated: R
Run Time: 1 hours, 41 minutes
Video: Color
Released: December 26, 2017
Originally Released: 2017
Label: Screen Media
Encoding: Region 1 (USA & Canada)
Note: [cc]

Interview with Jonathan Breck (The Creeper")

Aspect Ratio: Widescreen - 2.35
Audio:

Dolby Digital 2.0 Stereo - English
Dolby Digital 5.1 - English
Subtitles - English, Spanish
Performers, Cast and Crew:
Entertainment Reviews:
Rating: 4/10
-- The result disappoint fans of the saga in particular, and loves of horror movies in general. [Full Review in Spanish]
Full Review
Rating: 1/4
-- The Jeepers Creepers saga comes to a close with this hopelessly ineffective and thoroughly tedious entry...
Full Review
Rating: 3/10
-- Lacking in imagination or genuine scares, Jeepers Creepers 3 falls tragically short on just about every front.
Full Review
The effects of the film are so basic, if not cheap... [Full review in Spanish]
Full Review
Rating: 2.5/10
-- An unremarkable entry in a cult favorite franchise, Jeepers Creepers 3 offers fans little to get excited about. While the monster still rules its slice of country highway and the skies above it, the rest of the film crashes in the cornfields.
Full Review
Rating: 3.5/5
-- The film - though rife with Creeper action - is fairly light on any actual scares, [but] at the end of the day if you're a fan of the franchise, you'll be happy with this latest entry...
Full Review
Product Description:
Set between the first and third movie, the third installment of creepy monster horror, Jeepers Creepers, sees sheriff Dan Tashtego (Stan Shaw) recruit officer Davis Tubbs (Brandon Smith) to hunt down and kill the mysterious killing monster. Directed by Victor Salva.
Keywords:
Similar Products
Formats:
Genres:
Theme:
Product Info
Sales Rank: 13,202
UPC: 814838014913
Shipping Weight: 0.13/lbs (approx)
International Shipping: 1 item