The Croods A New Age (Blu-ray + DVD)
The future ain't what it used to be.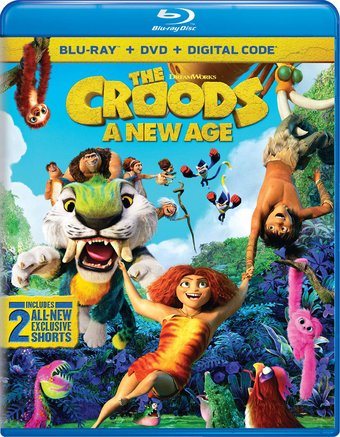 Price:
$

15

.30
List Price:
$16.98
You Save:
$1.68 (10% Off)
Available:
Usually ships in 2-4 business days
Format: Blu-ray (2 Discs)
Also released as:
Blu-ray Details
Number of Discs: 2
Released: February 23, 2021
Originally Released: 2020
Label: Dreamworks Animated
Performers, Cast and Crew:
Entertainment Reviews:
[With] a spectacularly animated, inventively edited frolic through a series of fantastically loopy prehistoric landscapes.
When war erupts between humans and apes, the Croods' ornery old Gran steps up for battle, rekindling the spirit of an ancient tribe of warrior women to which she once belonged, called The Thunder Sisters. They get their own theme tune, courtesy of HAIM...
3 stars out of 5 -- [With] lots of weird flourishes that make this movie very odd and very enjoyable.
[T]he Bettermans have cultivated a stunning DayGlo garden -- even wilder and more demented than the trippy Systar System from the LEGO MOVIE follow-up.
[With] a decent first half and solid voice work throughout...
Product Description:
After surviving the end of the only world they've ever known, the Croods now have to find a new place to call home. They set off into uncharted waters, and soon enough, they come upon a walled-in haven that can provide for their every need. Unfortunately, there is one small problem: another family has already taken residence in the area. They are the Bettermans, and they have an intricately-made treehouse, effective farming, and lots of impressive inventions. Needless to say, it doesn't take long for the prehistoric to clash with the modern. Directed by Joel Crawford.
Keywords:
Similar Products
Formats:
Genres:

Product Info
Sales Rank: 109,508
UPC: 191329152133
Shipping Weight: 0.22/lbs (approx)
International Shipping: 2 items