The Fantastic World Of William Cameron Menzies with Rediscovered Shorts of the 1930s
A collection of historic shorts that demonstrate the creative work by art director William Cameron Menzies. Plus three unusual lost films.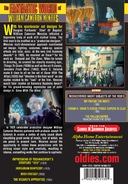 SALE:
$

5

.95
List Price:
$7.98
You Save:
$2.03 (25% Off)
Available:
Usually ships in 1-3 business days
DVD Features:
Rated: Not Rated
Run Time: 1 hours, 8 minutes
Video: Black & White
Released: October 27, 2009
Originally Released: 2009
Label: Alpha Video
Encoding: Region 0 (Worldwide)
Performers, Cast and Crew:
Entertainment Reviews:
Description by OLDIES.com:
With his spectacular set designs for Douglas Fairbanks'
Thief Of Bagdad
, William Cameron Menzies initiated a legendary body of work still studied today. The first man to be credited as a "production designer," Menzies multi-dimensional approach coordinated set design, lighting, costumes, make-up, special effects and later, color. At the very first Academy Awards in 1928, he received an Oscar for his work on
Tempest
and
The Dove
. When he turned to directing, he created the visually stunning epic,
Things To Come
(1936) as well as the sci-fi classic,
Invaders From Mars
(1953). David O. Selznick made it clear to all on the set of Gone With The Wind (1939) that "Menzies is the final word" on any matter related to the "look" of the film. Menzies would later receive an honorary Academy Award for his ground-breaking expressive use of color design in
Gone With The Wind
. In 1929 celebrated production designer William Cameron Menzies partnered with producer Joseph M. Schenck to create a series of early sound shorts visualizing great works of music, four of which we are proud to present here. Menzies seized the opportunity to imbue these productions with his striking visual style and creativity, resulting in intense, compelling works that continue to captivate.
Impressions Of Tschaikowsky's Overture "1812" (1929)
Hungarian Rhapsody (1930)
Irish Fantasy (1929)
The Wizard's Apprentice (1930)
This release also contains these other rediscovered short subjects of the 1930s:
My Friend The Harti (1932)
Lyman H. Howe's Hodge-Podge Capers in Clay (1933)
The Fallen Empire (Vagabond Adventure Series)
Movie Lovers' Ratings & Reviews:
Customer Rating:
Based on 7 ratings.

True Art from the Silent-to-Sound Transition
Movie Lover:
Jeremy Weinstein
from
Walnut Creek, CA US
-- February, 27, 2010
Stellar early sound fantasies of silent screen performances set to classical music pieces, including Napoleon's invasion of Russia set to the 1812 Overture, a gypsy adventure set to the Hungarian Rhapsody, and finally a delightful pre-Fantasia live action Sorcerer's Apprentice.
Similar Products
Product Info
Sales Rank: 40,172
UPC: 089218591395
Shipping Weight: 0.27/lbs (approx)
International Shipping: 1 item