The Day After
They told us it would be impossible to make this movie. They told us it would be impossible for you to watch it. We hope nothing is impossible.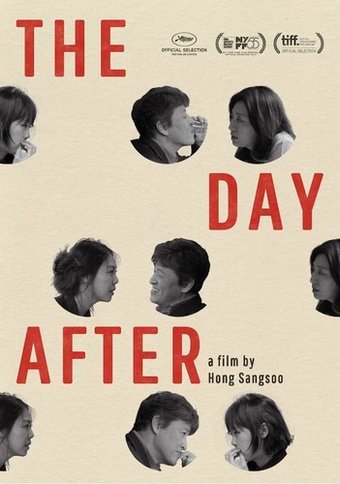 SUPER SAVINGS:
$

23

.10 Limited Time Only
List Price:
$29.95
You Save:
$6.85 (23% Off)
Available:
Usually ships in 2-4 business days
LOW STOCK:
Only 2 copies left
Format: DVD
Different formats available:
DVD Features:
Rated: Not Rated
Run Time: 1 hours, 33 minutes
Video: Color
Released: February 26, 2019
Originally Released: 2019
Label: Cinema Guild
Encoding: Region 1 (USA & Canada)
Note: Q&A with Hong Sangsoo and Kim Hyungkoo provided by Film Society of Lincoln Center

Theatrical Trailers
Booket featuring an essay by Dennis Lim

Audio:

Dolby Digital 2.0 Stereo - Korean
Dolby Digital 5.1 - Korean
Subtitles - English
Performers, Cast and Crew:
Entertainment Reviews:
The film does bring on a few laughs but doesn't make one engage with the situation and the characters.
Full Review
Rating: 2/4
-- [An] uninspired pity party comedy.
Full Review
Hong tells the story in long and dialogue-filled takes, done in a soft black-and-white that feels like pencil drawings, to extract deep and earnest confessions with a graceful touch that shudders with the life-shaking emotions at their core.
Full Review
Hong Sang-soo directs another minimalistic film, which focuses on witty dialogue to get his comments through, and occasionally functions as a stage play, particularly due to the long takes of people simply talking
Full Review
Rating: 3/5
-- Although The Day After seems a bit too trivial to compare to some of Sangsoo's more substantial titles, this melancholy faced comedy should amuse the director's fan base.
Full Review
Shot in chilly, silky digital black and white, it plays with chronology in a way that seems both casual and musically precise.
Rating: C
-- A lazy shoulder shrug of a movie that never bothers to work out who its characters are, what they want, or why their ostensible problems should be of interest to anyone else.
Full Review
Product Description:
Bong-wan ( Kwon Hae-hyo) runs a small South Korean publishing house where Areum ( Kim Min-Hee), an aspiring writer, work as his new assistant; during Areum's first day on the job, Bong-wan's wife (Cho Yun-hee) barges in and mistakes her for his former employee and mistress after finding a love letter in their home. Written and directed by Hong Sang-soo.
Keywords:
Similar Products
Formats:
Genres:
Product Info
Sales Rank: 109,934
UPC: 881164001191
Shipping Weight: 0.21/lbs (approx)
International Shipping: 1 item