Adventures of Ozzie & Harriet - Volume 11
Four hilarious episodes of the long-running family sit-com.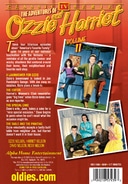 SALE:
$

5

.95
List Price:
$7.98
You Save:
$2.03 (25% Off)
Available:
Usually ships in 1-3 business days
Also released as:
DVD Features:
Episodes originally aired 1952-1966
Rated: Not Rated
Run Time: 1 hours, 57 minutes
Video: Black & White
Released: April 28, 2009
Originally Released: 2009
Label: Alpha Video
Encoding: Region 0 (Worldwide)
Packaging: Keep Case
Aspect Ratio: Full Frame
Audio:
Performers, Cast and Crew:
Entertainment Reviews:
Description by OLDIES.com:
These four hilarious episodes about "America's Favorite Family" span 14 years of our national fascination with the Nelsons - a reminder of all the gentle humor and wacky situations that centered around their home, their neighborhood and favorite malt shop.
A Lawnmower For Ozzie: Ozzie's lawnmower is locked in Joe Randolph's Garage. With Joe away on vacation, Ozzie plans a break-in.
The Editor: Harriet's Women's Club newsletter goes "big time" when Ozzie takes over as ace reporter.
The Special Cake: Dave's wife, June, bakes a cake for a "very special occasion." Dave begins to panic when he can't recall what the occasion might be.
The Table And The Painting: Ozzie reluctantly accepts a badly built table from neighbor Joe, but Harriet doesn't want it in their house.
Product Description:
ABC's THE ADVENTURES OF OZZIE & HARRIET was a long-running sitcom that starred the Nelson family. The Nelsons, who were a real family off-screen, included parents Ozzie and Harriet and their sons, David and Ricky. Their wholesome exploits were transferred from radio to television in 1952, and many of the stories were based on real events that had occurred in their lives. The show lasted for 14 years, and this collection includes four episodes: "A Lawnmower for Ozzie," "The Editor," "The Special Cake," and "The Table and the Painting."
Keywords: