Captain Braddock and the Bunko Squad investigate con-men in four episodes from the vintage TV series.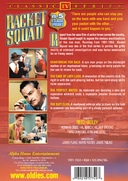 SALE:
$

5

.95
List Price:
$7.98
You Save:
$2.03 (25% Off)
Available:
Usually ships in 1-3 business days
DVD Features:
Episodes originally aired 1951-1953
Rated: Not Rated
Run Time: 1 hours, 45 minutes
Video: Black & White
Released: March 31, 2009
Originally Released: 1950
Label: Alpha Video
Encoding: Region 0 (Worldwide)
Packaging: Keep Case
Aspect Ratio: Full Frame - 1.33
Audio:
Performers, Cast and Crew:
Entertainment Reviews:
Description by OLDIES.com:
Ripped from the case files of police forces across the country, "Racket Squad" sought to expose the devious machinations of the con man. Running from 1951-1953, "Racket Squad"was one of the first series to portray the gritty reality of criminal investigation and was twice nominated for an Emmy award.
Heartbreak For Sale: A con man preys on the distraught mother of an imprisoned felon, promising an early parole for her son in return for cash.
The Case Of Lady Luck: A newcomer at the country club fits right in with the card-playing ladies, but her card-sharp skills raise suspicions.
The Perfect Match: An elaborate con involving a rare and expensive emerald costs a reputable jeweler thousands of dollars.
The Suit Club: A newlywed veteran who is down on his luck is suckered into becoming part of a shady pyramid scheme.
Product Description:
A TV drama based on cases culled from actual police files, RACKET SQUAD originally ran from 1951 to '53. Four episodes from the show are collected here, and all of them tell tales of devious con men and law enforcement's attempts to bring them to justice: "Heartbreak For Sale," "The Case Of Lady Luck," The Perfect Match," and "The Suit Club."