The Vise - Volume 2
Four tension-filled tales of suspense from the classic television series.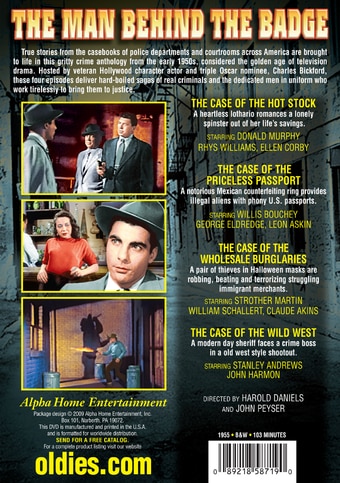 SALE:
$

5

.95
List Price:
$7.98
You Save:
$2.03 (25% Off)
Available:
Usually ships in 1-3 business days
DVD Features:
Rated: Not Rated
Run Time: 1 hours, 40 minutes
Video: Black & White
Released: February 24, 2009
Originally Released: 1954
Label: Alpha Video
Encoding: Region 0 (Worldwide)
Packaging: Keep Case
Aspect Ratio: Full Frame
Audio:
Performers, Cast and Crew:
Entertainment Reviews:
Description by OLDIES.com:
This popular anthology of mystery stories was originally produced for British television, presenting dramatic tales of individuals whose bad choices lead to their downfall. Many of the shows featured private investigator Mark Saber, portrayed by rugged English actor Donald Gray, who lost his left arm while serving in the Second World War. Although the title of the series changed in later syndications to "Uncovered" and "The Pendulum," as evidenced by several of the episodes presented here, these gripping stories of crime are splendid examples of high-calibre British suspense drama.
Bond of Hate: A man trapped in a twisted and loveless marriage is plagued by the paranoid suspicion that his hateful wife plans to kill him. Starring Kay Callard, Lloyd Lamble; Directed by David MacDonald.
Farewell to Mrs. Forest: A phony Russian "prince" becomes a prime suspect in a homicide when his lover is found dead at the bottom of the hotel swimming pool. Starring Donald Gray, Diana Decker; Directed by Harry Lee Danziger.
Side Entrance: Fed up with his wife's flagrant infidelities, a wealthy businessman plans to kill her and frame her lover for the crime. Starring John Loder, Thea Gregory; Directed by David MacDonald.
The Count of 12: An unscrupulous financier receives death threats after the lives of several investors are destroyed by his stock manipulations. Starring John Longdon, Garrard Greene; Directed by Paul Gerrard.
Product Description:
Premiering in 1954, this British anthology series focused on con men, murderers, and other malcontents caught in the web of their own schemes. After digging their own graves with bad choices, they would then lie down in them in each episode's reassuring conclusion. This volume presents four episodes.
Similar Products
Product Info
Sales Rank: 18,768
UPC: 089218577191
Shipping Weight: 0.36/lbs (approx)
International Shipping: 1 item