This Man Can't Die (1968) / Desperate Mission (1971)
A tough mercenary is offered a fortune in gold to capture the leader of a gang of cutthroats. / A man joins a convey to help a wealthy man's wife and a mysterious treasure to safety.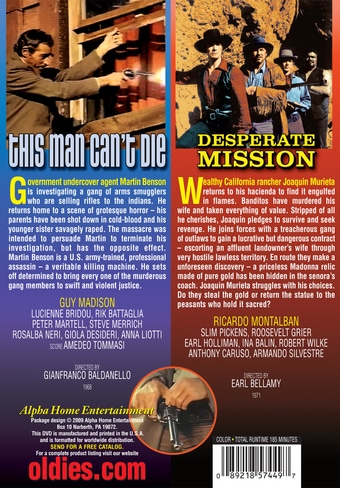 SALE:
$

5

.95
List Price:
$7.98
You Save:
$2.03 (25% Off)
Available:
Usually ships in 1-3 business days
More products that might interest you:
Classic Western Collection: 20 Full Color Vintage Movie Postcards (Movie Collectible)
$7.98
DVD Features:
Rated: Not Rated
Run Time: 3 hours, 5 minutes
Video: Color
Released: January 27, 2009
Originally Released: 1968
Label: Alpha Video
Encoding: Region 0 (Worldwide)
Packaging: Keep Case
Aspect Ratio: Full Frame - 1.33
Audio:
Performers, Cast and Crew:
Entertainment Reviews:
Description by OLDIES.com:
This Man Can't Die (1968, Color):
Government undercover agent Martin Benson is investigating a gang of arms smugglers who are selling rifles to the Indians. He returns home to a scene of grotesque horror - his parents have been shot down in cold-blood and his younger sister savagely raped. The massacre was intended to persuade Martin to terminate his investigation, but has the opposite effect. Martin Benson is a U.S. army-trained, professional assassin - a veritable killing machine. He sets off determined to bring every one of the murderous gang members to swift and violent justice.
Starring Guy Madison, Lucienne Bridou, Rik Battaglia, Peter Martell, Steve Merrich, Rosalba Neri, Giola Desideri, Anna Liotti; Score by Amedeo Tommasi; Directed by Gianfranco Baldanello.
Desperate Mission (1971, Color): Wealthy California rancher Joaquin Murieta returns to his hacienda to find it engulfed in flames. Banditos have murdered his wife and taken everything of value. Stripped of all he cherishes, Joaquin pledges to survive and seek revenge. He joins forces with a treacherous gang of outlaws to gain a lucrative but dangerous contract - escorting an affluent landowner's wife through very hostile lawless territory. En route they make a unforeseen discovery - a priceless Madonna relic made of pure gold has been hidden in the senora's coach. Joaquin Murieta struggles with his choices. Do they steal the gold or return the statue to the peasants who hold it sacred?
Starring Ricardo Montalban, Slim Pickens, Roosevelt Grier, Earl Holliman, Ina Balin, Robert Wilke, Anthony Caruso, Armando Silvestre; Directed By Earl Bellamy.
Keywords:
Similar Products
Product Info
Sales Rank: 25,808
UPC: 089218574497
Shipping Weight: 0.25/lbs (approx)
International Shipping: 1 item