Gladiator Double Feature: Invincible Gladiator (1962) / Triumph of the Son of Hercules (1961)
Two sword and sandal spectaculars.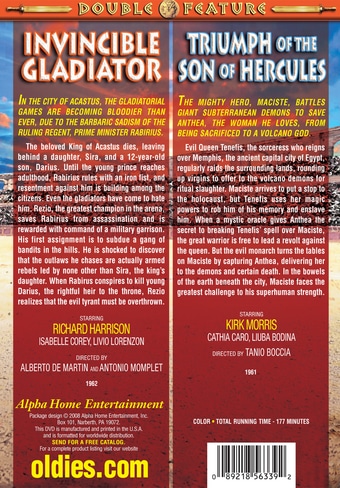 SALE:
$

5

.95
List Price:
$7.98
You Save:
$2.03 (25% Off)
Available:
Usually ships in 1-3 business days
DVD Features:
Rated: Not Rated
Run Time: 2 hours, 57 minutes
Video: Color
Released: August 26, 2008
Originally Released: 1963
Label: Alpha Video
Encoding: Region 0 (Worldwide)
Packaging: Keep Case
Aspect Ratio: Full Frame - 1.33
Performers, Cast and Crew:
Entertainment Reviews:
Description by OLDIES.com:
Invincible Gladiator (1962, Color):
In the city of Acastus, the gladiatorial games are becoming bloodier than ever, due to the barbaric sadism of the ruling regent, Prime Minister Rabirius. The beloved King of Acastus dies, leaving behind a daughter, Sira, and a 12-year-old son, Darius. Until the young prince reaches adulthood, Rabirius rules with an iron fist, and resentment against him is building among the citizens. Even the gladiators have come to hate him. Rezio, the greatest champion in the arena, saves Rabirius from assassination and is rewarded with command of a military garrison. His first assignment is to subdue a gang of bandits in the hills. He is shocked to discover that the outlaws he chases are actually armed rebels led by none other than Sira, the king's daughter. When Rabirus conspires to kill young Darius, the rightful heir to the throne, Rezio realizes that the evil tyrant must be overthrown.
Starring Kirk Morris, Cathia Caro, Liuba Bodina; Directed by Tanio Boccia.
Triumph of the Son of Hercules (1961, Color): The mighty hero, Maciste, battles giant subterranean demons to save Anthea, the woman he loves, from being sacrificed to a volcano god. Evil Queen Tenefis, the sorceress who reigns over Memphis, the ancient capital city of Egypt, regularly raids the surrounding lands, rounding up virgins to offer to the volcano demons for ritual slaughter. Maciste arrives to put a stop to the holocaust, but Tenefis uses her magic powers to rob him of his memory and enslave him. When a mystic oracle gives Anthea the secret to breaking Tenefis' spell over Maciste, the great warrior is free to lead a revolt against the queen. But the evil monarch turns the tables on Maciste by capturing Anthea, delivering her to the demons and certain death. In the bowels of the earth beneath the city, Maciste faces the greatest challenge to his superhuman strength.
Starring Richard Harrison, Isabelle Corey, Livio Lorenzon;Directed by Alberto De Martino and Antonio Momplet.
Keywords:
Similar Products
Product Info
Sales Rank: 1,785
UPC: 089218563392
Shipping Weight: 0.27/lbs (approx)
International Shipping: 1 item