The Adventures of Champion - Volume 1
Four classic episodes featuring Champion, the wild stallion.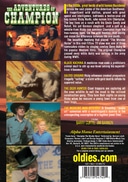 Price:
$

7

.10
List Price:
$8.98
You Save:
$1.88 (21% Off)
Available:
Usually ships in 5-7 business days
DVD-R Details
Rated: Not Rated
Run Time: 1 hours, 44 minutes
Video: Black & White
Encoding: Region 0 (Worldwide)
Released: November 27, 2007
Originally Released: 1955
Label: Alpha Video
Performers, Cast and Crew:
Entertainment Reviews:
Description by OLDIES.com:
In the 1880s, great herds of wild horses thundered across the vast plains of the American Southwest. A magnificent wild stallion, graced with great speed and intelligence, befriends a twelve-year old boy named Ricky North, who names him Champion. The boy lives on a ranch with his Uncle Sandy and Rebel, his pet German shepherd. Just a call or a whistle from Ricky can summon Champion from the free-running herd. On the wild frontier, that ability can mean the difference between life and death.
The beautiful mustang that played "The Wonder Horse" in this mid-Fifties TV show was one of three namesakes ridden by singing cowboy Gene Autry in his popular Western films. The original Champion passed away while Autry was serving in the army during WWII.
Black Kachina: A medicine man uses a prehistoric animal skull to stir up war-fever among his superstitious tribesmen.
Salted Ground: Ricky witnesses crooked prospectors illegally "salting" a claim with gold dust to inflate its apparent value.
The Deer Hunter: Cruel trappers are capturing all the area wildlife to sell the meat to the railroad construction gang. They turn their sights on young Ricky when he rescues a young fawn from one of their traps.
The Medicine Man Mystery: A traveling "snake oil" salesman with a ventriloquist's dummy is the unsuspecting accomplice of a fugitive jewel thief.
Keywords:
Movie Lovers' Ratings & Reviews:
Customer Rating:
Based on 5 ratings.

A bit overdone
Movie Lover:
tvthemeking
from
MISSISSAUGA, ON CA
-- March, 31, 2013
The episodes are interesting enough to keep you interested but the combination of Champion The Wonder Horse and Rebel The Wonder Dog were pushing the believablility a bit too much
All they needed was Hawk The Wonder Budgie and Bart The Wonder Hamster :(
Similar Products
Product Info
Sales Rank: 32,894
UPC: 089218547491
Shipping Weight: 0.27/lbs (approx)
International Shipping: 1 item