Raiders of Ghost City
Gold raiders invade the West in 13 thrilling chapters of this classic serial.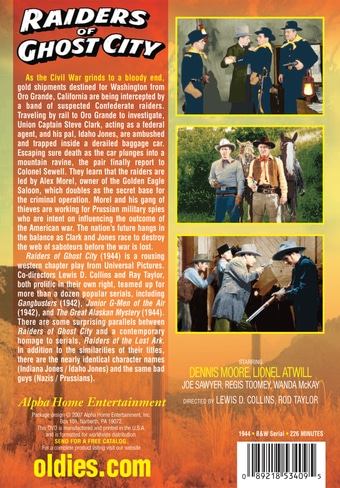 Price:
$

6

.90
List Price:
$8.98
You Save:
$2.08 (23% Off)
Available:
Usually ships in 5-7 business days
DVD Features:
Rated: Not Rated
Run Time: 3 hours, 46 minutes
Video: Black & White
Released: May 29, 2007
Originally Released: 1944
Label: Alpha Video
Encoding: Region 0 (Worldwide)
Packaging: Keep Case
Aspect Ratio: Full Frame - 1.33
Performers, Cast and Crew:
Entertainment Reviews:
Description by OLDIES.com:
As the Civil War grinds to a bloody end, gold shipments destined for Washington from Oro Grande, California are being intercepted by a band of suspected Confederate raiders. Traveling by rail to Oro Grande to investigate, Union Captain Steve Clark, acting as a federal agent, and his pal, Idaho Jones, are ambushed and trapped inside a derailed baggage car. Escaping sure death as the car plunges into a mountain ravine, the pair finally report to Colonel Sewell. They learn that the raiders are led by Alex Morel, owner of the Golden Eagle Saloon, which doubles as the secret base for the criminal operation. Morel and his gang of thieves are working for Prussian military spies who are intent on influencing the outcome of the American war. The nation's future hangs in the balance as Clark and Jones race to destroy the web of saboteurs before the war is lost.
Raiders of Ghost City (1944) is a rousing western chapter play from Universal Pictures. Co-directors Lewis D. Collins and Ray Taylor, both prolific in their own right, teamed up for more than a dozen popular serials, including Gangbusters (1942), Junior G-Men of the Air (1942), and The Great Alaskan Mystery (1944). There are some surprising parallels between Raiders of Ghost City and a contemporary homage to serials, Raiders of the Lost Ark. In addition to the similarities of their titles, there are the nearly identical character names (Indiana Jones / Idaho Jones) and the same bad guys (Nazis / Prussians).
Keywords:
Movie Lovers' Ratings & Reviews:
Customer Rating:
Based on 97 ratings.

Raiders of Ghost City.
Movie Lover:
terence brookes
from
BARROW IN FURNESS, CUMBRIA GB
-- November, 16, 2015
This 13 chapters of action great story line keeps you watching from start to finish i fully recommend to all who like good wsterns
Watch out for the flaming lead!
Movie Lover:
Pecos Kid
from
Bijou US
-- November, 21, 2009
Raiders of Ghost City, a 1944 Universal Serial, is an enjoyable, if brainless, serial set in the wild west in the closing days of the Cival War. ALpha has sephia-toned a nice print and it looks good. Dennis Moore is the lead, with Joe ("It Came From Outer Space") Sawyer also around to assist. Of course any movie with Lionel Atwil is enjoyable to watch, even if Mr Atwill looks a little bored with this one. He plays the baddie, naturally. Kudos to Alpha for a nice job on this one.
Raiders of Ghost City (Chapters 1-13)
Movie Lover:
Fred Culver
from
Austin, TX US
-- August, 7, 2009
Good material with good horsemanship. Enjoyed Sat. and the kids. Fred from Austin.
Similar Products
Product Info
Sales Rank: 6,143
UPC: 089218534095
Shipping Weight: 0.25/lbs (approx)
International Shipping: 1 item