The Range Busters investigate the murder of an old friend and uncover a conspiracy of monumental proportions.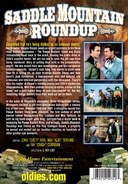 SUPER SAVINGS:
$

3

.99 Limited Time Only
List Price:
$7.98
You Save:
$3.99 (50% Off)
Available:
Usually ships in 1-3 business days
Also released as:
More products that might interest you:
Classic Western Collection: 20 Full Color Vintage Movie Postcards (Movie Collectible)
$7.98
DVD Features:
Rated: Not Rated
Run Time: 1 hours
Video: Black & White
Encoding: Region 0 (Worldwide)
Released: February 27, 2007
Originally Released: 1941
Label: Alpha Video
Aspect Ratio: Full Frame - 1.33
Performers, Cast and Crew:
Entertainment Reviews:
Description by OLDIES.com:
Convinced that he's being stalked by an unknown enemy, ranch owner Magpie Harper sends an urgent summons to his three most trusted employees - The Range Busters! Crash and Dusty immediately head back to the ranch, leaving the cattle drive in Alibi's capable hands, but are too late to save the old man from being murdered. Wary of putting their faith in the untrustworthy sheriff, the two mount their own investigation and turn up several possible suspects: Harper's cook Fang Way seems to know more than he is letting on, as does foreman Blackie Stone; and then there's Jack Henderson, a businessman who had entered into a tenuous and strained partnership with the deceased. There's also the matter of Harper's missing money and Alibi's mysterious disappearance. With their partner missing in action, a killer on the loose, and a well-hidden heap of cash unaccounted for, the two remaining Range Busters have their work cut out for them.
In the wake of Republic's successful Three Mesquiteers series, Monogram decided to put their distribution dollars into a cowboy trio of their own. Between 1940 and 1943, a whopping twenty four Range Busters films were released, the first sixteen of which starred former Mesquiteers Ray Corrigan and Max Terhune, as well as big band singer John King. Corrigan had a major hand in producing the Range Busters films, and tellingly, Saddle Mountain Roundup was filmed on The Ray Corrigan Ranch, a property he owned and rented out for location shooting on hundreds of other golden age westerns.
Keywords:
Similar Products
Product Info
Sales Rank: 37,189
UPC: 089218527493
Shipping Weight: 0.25/lbs (approx)
International Shipping: 1 item