His Double Life
A famous but reclusive artist fakes his own death and starts over again posing as a butler.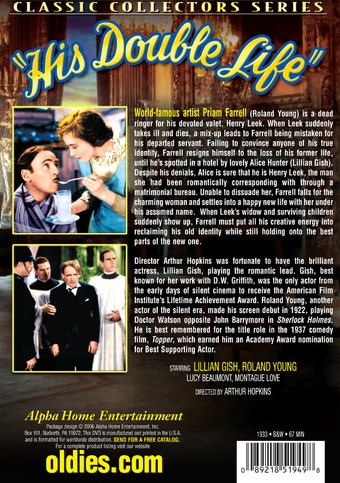 SALE:
$

5

.95
List Price:
$7.98
You Save:
$2.03 (25% Off)
Available:
Usually ships in 1-3 business days
DVD Features:
Rated: Not Rated
Run Time: 1 hours, 7 minutes
Video: Black & White
Released: October 24, 2006
Originally Released: 1933
Label: Alpha Video
Encoding: Region 0 (Worldwide)
Packaging: Keep Case
Aspect Ratio: Full Frame - 1.33
Performers, Cast and Crew:
Entertainment Reviews:
Roland Young is completely charming, although miscast.
Full Review
Description by OLDIES.com:
World-famous artist Priam Farrell (Roland Young) is a dead ringer for his devoted valet, Henry Leek. When Leek suddenly takes ill and dies, a mix-up leads to Farrell being mistaken for his departed servant. Failing to convince anyone of his true identity, Farrell resigns himself to the loss of his former life, until he's spotted in a hotel by lovely Alice Hunter (Lillian Gish). Despite his denials, Alice is sure that he is Henry Leek, the man she had been romantically corresponding with through a matrimonial bureau. Unable to dissuade her, Farrell falls for the charming woman and settles into a happy new life with her under his assumed name. When Leek's widow and surviving children suddenly show up, Farrell must put all his creative energy into reclaiming his old identity while still holding onto the best parts of the new one.
Director Arthur Hopkins was fortunate to have the brilliant actress, Lillian Gish, playing the romantic lead. Gish, best known for her work with D.W. Griffith, was the only actor from the early days of silent cinema to receive the American Film Institute's Lifetime Achievement Award. Roland Young, another actor of the silent era, made his screen debut in 1922, playing Doctor Watson opposite John Barrymore in Sherlock Holmes. He is best remembered for the title role in the 1937 comedy film, Topper, which earned him an Academy Award nomination for Best Supporting Actor.
Product Description:
A valet dies and is buried under his master's name. The master assumes his identity and masquerades as the dead valet. An early talkie comedy which was adapted from Arnold Bennett's play "Buried Alive." Remade in 1943, with far greater box office success, as Holy Matrimony.
Keywords:
Movie Lovers' Ratings & Reviews:
Customer Rating:
Based on 380 ratings.

Lillian Gish, a great silent movie star, is really good here.
Movie Lover:
RAM
from
Oil City, PA US
-- September, 4, 2007
If you have ever seen Lillian Gish in any of her famous silent movie roles, you'll really appreciate her in this "talkie". The plot is slightly above average but her quick-talking female role in this movie is a far cry from the great roles she played in "Way Down East", "Orphans of the Storm" or "Broken Blossoms"...View this one just to see her performance. Enjoy!
Similar Products
Product Info
Sales Rank: 21,313
UPC: 089218519498
Shipping Weight: 0.25/lbs (approx)
International Shipping: 1 item