Tom Tyler Double Feature: Born To Battle (1935) / Roamin' Wild (1936)
Tom Tyler rides the range in two classic cowboy adventures.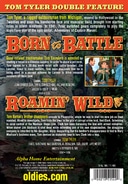 SALE:
$

5

.95
List Price:
$7.98
You Save:
$2.03 (25% Off)
Available:
Usually ships in 1-3 business days
More products that might interest you:
Classic Western Collection: 20 Full Color Vintage Movie Postcards (Movie Collectible)
$7.98
DVD Features:
Rated: Not Rated
Run Time: 1 hours, 51 minutes
Video: Black & White
Released: September 26, 2006
Originally Released: 1935
Label: Alpha Video
Encoding: Region 0 (Worldwide)
Packaging: Keep Case
Aspect Ratio: Full Frame - 1.33
Performers, Cast and Crew:
Entertainment Reviews:
Description by OLDIES.com:
Tom Tyler, a rugged outdoorsman from Michigan, moved to Hollywood in the Twenties and soon his handsome face and muscular build brought him starring roles in silent Westerns. In 1941, Tyler switched gears completely to play the superhero star of the epic serial, "Adventures of Captain Marvel."
Born To Battle (1935, B&W): Good-natured troublemaker Tom Saunders is arrested for starting a brawl in a Chinese laundry. In order to avoid a jail term, Tom agrees to a 30-day work detail with cattle rancher, Jim Larmer. Hired to roust rustlers, Tom soon discovers that he is being used in a corrupt scheme by Larmer to drive innocent ranchers off their land. Starring Tom Tyler, Joan Carmen, Earl Dwire, Charles King and William Desmond; Directed by Harry S. Webb.
Roamin' Wild (1936, B&W): Tom Barton's brother disappears enroute to Placerville, where he was to start his new job as town marshal. Hired to investigate, Tom finds the town in the grip of corrupt crime lord, Ned Clark. Scheming to seize control of the Madison Stage Line, Clark has been harassing the line with armed robberies. When owner Jim Madison is shot dead while defending one of his own stagecoaches, the struggling company is inherited by his daughter, Mary. Suspecting that his brother's disappearance is tied to Mary Madison's business woes, Tom devises an elaborate ruse to lure Clark into a trap. Starring Tom Tyler, Carol Wyndham, Max Davidson, Al Ferguson, Earl Dwire and Lafe McKee; Directed by Bernard B. Ray.
Keywords:
Movie Lovers' Ratings & Reviews:
Customer Rating:
Based on 13 ratings.

A pretty good double feature
Movie Lover:
Karl Davidson
from
CENTRALIA, WA US
-- May, 12, 2016
BORN TO BATTLE is a routine Poverty Row western from Reliable Films. The picture quality is acceptable. The movie begins with Tom shooting up the town and generally being an overgrown spoiled brat. But he soon wises up and becomes the good guy. His fight scenes are more clumsy than those of many other cowboy stars. Silent movie cowboy William Desmond has a role. Not a bad movie -- just routine.

ROAMIN' WILD is the better of the two films. The story line is more interesting and the picture quality is pretty good. All the better to see the different countryside, different big rocks and different western town than those I've seen before in so many B-westerns. Silent movie comedian Max Davidson has a nice role.

This disc has my recommendation.
Similar Products
Product Info
Sales Rank: 11,915
UPC: 089218515490
Shipping Weight: 0.30/lbs (approx)
International Shipping: 1 item