The Lone Rider: Lone Rider Fights Back
The mysterious Lone Rider goes undercover as a traveling troubadour to get the goods on local land poachers.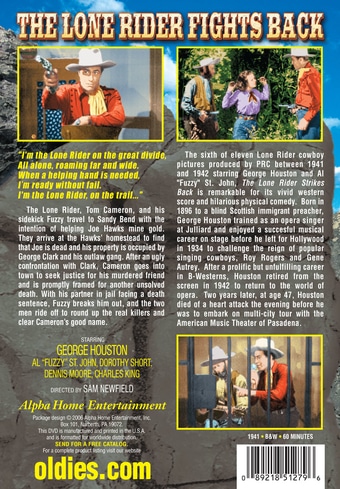 SALE:
$

5

.95
List Price:
$7.98
You Save:
$2.03 (25% Off)
Available:
Usually ships in 1-3 business days
More products that might interest you:
Classic Western Collection: 20 Full Color Vintage Movie Postcards (Movie Collectible)
$7.98
DVD Features:
Rated: Not Rated
Run Time: 1 hours
Video: Black & White
Encoding: Region 0 (Worldwide)
Released: August 22, 2006
Originally Released: 1941
Label: Alpha Video
Packaging: Keep Case
Aspect Ratio: Full Frame - 1.33
Audio:
Performers, Cast and Crew:
Entertainment Reviews:
Description by OLDIES.com:
The Lone Rider, Tom Cameron, and his sidekick Fuzzy travel to Sandy Bend with the intention of helping Joe Hawks mine gold. They arrive at the Hawks' homestead to find that Joe is dead and his property is occupied by George Clark and his outlaw gang. After an ugly confrontation with Clark, Cameron goes into town to seek justice for his murdered friend and is promptly framed for another unsolved death. With his partner in jail facing a death sentence, Fuzzy breaks him out, and the two men ride off to round up the real killers and clear Cameron's good name.
The sixth of eleven Lone Rider cowboy pictures produced by PRC between 1941 and 1942 starring George Houston and Al "Fuzzy" St. John, The Lone Rider Strikes Back is remarkable for its vivid western score and hilarious physical comedy. Born in 1896 to a blind Scottish immigrant preacher, George Houston trained as an opera singer at Julliard and enjoyed a succesful musical career on stage before he left for Hollywood in 1934 to challenge the reign of popular singing cowboys, Roy Rogers and Gene Autrey. After a prolific but unfulfilling career in B-Westerns, Houston retired from the screen in 1942 to return to the world of opera. Two years later, at age 47, Houston died of a heart attack the evening before he was to embark on multi-city tour with the American Music Theater of Pasadena.
Product Description:
George Houston is Tom Cameron, aka the Lone Rider, out to avenge his friend's murder. He goes undercover in an outlaw gang of poachers, and soon discovers who the culprit is.
Similar Products
Product Info
Sales Rank: 11,312
UPC: 089218512796
Shipping Weight: 0.25/lbs (approx)
International Shipping: 1 item