Follow That Man (aka Man Against Crime) - Volume 4
Ralph Bellamy plays tough-talking private eye Mike Barnett is four (more) classic episodes of the early TV detective series.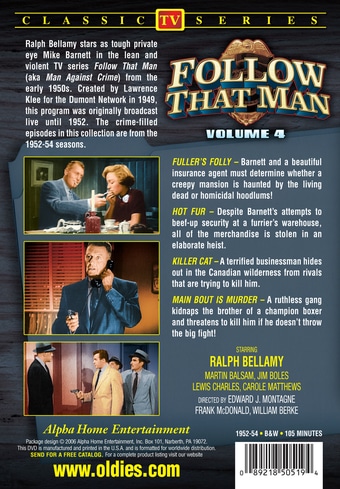 SALE:
$

5

.95
List Price:
$7.98
You Save:
$2.03 (25% Off)
Available:
Usually ships in 1-3 business days
Also available in a set:
DVD Features:
Episodes originally aired 1952-54
Rated: Not Rated
Run Time: 1 hours, 45 minutes
Video: Black & White
Released: May 23, 2006
Originally Released: 1952
Label: Alpha Video
Encoding: Region 0 (Worldwide)
Packaging: Keep Case
Aspect Ratio: Full Frame - 1.33
Performers, Cast and Crew:
Entertainment Reviews:
Description by OLDIES.com:
A man on the run. A burst of machine gun fire. The man falls dead at the door of detective Mike Barnett. Welcome to the Big City and another hard-boiled case from Barnett's files!
Ralph Bellamy stars as tough private eye Mike Barnett in the lean and violent TV series "Follow That Man" (aka "Man Against Crime") from the early 1950s. Created by Lawrence Klee for the Dumont Network in 1949, this program was originally broadcast live until 1952. The crime-filled episodes in this collection are from the 1952-54 seasons.
Fuller's Folly: Barnett and a beautiful insurance agent must determine whether a creepy mansion is haunted by the living dead or homicidal hoodlums!
Hot Fur: Despite Barnett's attempts to beef-up security at a furrier's warehouse, all of the merchandise is stolen in an elaborate heist.
Killer Cat: A terrified businessman hides out in the Canadian wilderness from rivals that are trying to kill him.
Main Bout Is Murder: A ruthless gang kidnaps the brother of a champion boxer and threatens to kill him if he doesn't throw the big fight!
Product Description:
Tracking the fortunes of hard-bitten private detective Mike Barnett (Ralph Bellamy), this crime drama gave him some tough cases to crack, as robbers, con men, and other shadowy figures from the criminal underworld attempted to ply their trades. FOLLOW THAT MAN aired live at its inception, but the four episodes included here were pre-recorded.
Keywords:
Similar Products
Product Info
Sales Rank: 56,545
UPC: 089218505194
Shipping Weight: 0.25/lbs (approx)
International Shipping: 1 item