TNT Jackson (1979) / The Black Godfather (1974)
R
A tough girl from Harlem poses as a prostitute to hunt for her missing brother / Black gangsters battle a turf war with the Mafia.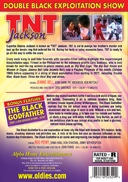 SALE:
$

5

.95
List Price:
$7.98
You Save:
$2.03 (25% Off)
Available:
Usually ships in 1-3 business days
DVD Features:
Rated: R
Run Time: 2 hours, 47 minutes
Video: Color
Released: April 25, 2006
Originally Released: 1974
Label: Alpha Video
Encoding: Region 0 (Worldwide)
Aspect Ratio: Full Frame - 1.33
Audio:
Performers, Cast and Crew:
Entertainment Reviews:
Description by OLDIES.com:
TNT Jackson (1979, Color, 72 Minutes):
Superfox Dianna Jackson is known as "TNT" Jackson. TNT is out to avenge her brother's murder and bust up the heroin ring that ordered the hit. Baring her body or using excessive force, TNT is ready to go all the way to settle the score. Crazy nude kung fu and fake funerals with narcotic-filled coffins highlight this supercharged blaxploitation saga. Filmed in the Philippines by the extremely prolific Cirio Santiago, who is best known for over-the-top women-in-prison movies such as
Big Bird Cage
,
The Big Doll House
and
Women in Cages
. Jeanne Bell (aka Jeannie Bell) was a Playboy Playmate of the month (October 1969) before appearing in a string of black exploitation films starting in 1972, including
Trouble Man
,
Black Gunn
,
Three the Hard Way
and others. Starring Jeanne Bell, Stan Shaw, Pat Anderson, Ken Metcalf. Produced and Directed by Cirio Santiago.
The Black Godfather (1974, Color, 95 Minutes): Modern day asphalt warriors battle it out in a dark world of liquor, sex and bullets. Overseeing it all is ruthless numbers king, Nate Williams (music legend Jimmy Witherspoon). This Black Godfather realizes that the old school ways of doing business are being abandoned and his reign is soon to end. Without a son and heir, Nate looks to master pimp JJ to take over his rackets and hustles. JJ starts a drug war with white trafficker, Tony Burton, as part of his ambitious plan to use corrupt drug profits to fund a glorious, militant black power uprising. The Black Godfather is a raw exploration of inner city life filled with fantastic 70's fashion, funky music, shocking violence and primitive sex. A relic of its time but also an obvious influence on hip, modern day filmmakers, The Black Godfather is an iconic and engrossing low budget crime melodrama. Starring Rod Perry, Damu King, Don Chastain, Jimmy Witherspoon. Written, Produced and Directed by John Evans.
Product Description:
This collection presents a double feature of 1970s blaxploitation classics: in the Roger Corman-produced TNT JACKSON (1975), a sexy kung fu expert (former Playboy Playmate Jeanne Bell) goes undercover as a Hong Kong hooker to track down the Chinese mobsters who murdered her brother; and in the John Evans-directed BLACK GODFATHER (1974), a low-level crime boss (Rod Perry) decides to bring down a white-owned heroin cartel in order to improve life in his drug-ridden ghetto.
Keywords:
Similar Products
Product Info
Sales Rank: 4,853
UPC: 089218503299
Shipping Weight: 0.27/lbs (approx)
International Shipping: 1 item