Adventures of Kit Carson - Volume 5
Famous cowboy legend Kit Carson fights injustice in four (more) action-packed episodes from this vintage TV series.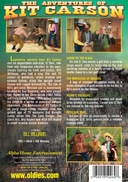 Price:
$

7

.10
List Price:
$8.98
You Save:
$1.88 (21% Off)
Available:
Usually ships in 5-7 business days
DVD Features:
Rated: Not Rated
Run Time: 1 hours, 40 minutes
Video: Black & White
Released: April 25, 2006
Originally Released: 1951
Label: Alpha Video
Encoding: Region 0 (Worldwide)
Aspect Ratio: Full Frame - 1.33
Audio:
Performers, Cast and Crew:
Entertainment Reviews:
Description by OLDIES.com:
Legendary western hero Kit Carson and his dependable side-kick, El Toro, ride from one dangerous situation to the next, always fighting for truth and justice. Bill Williams, who had a long film and TV career in westerns, crime dramas and science fiction, plays the upright scout Carson with rugged believability. The role of Kit's girl-crazy Mexican pal is humorously handled by Don Diamond, who later played Cpl. Reyes in the "Zorro" series (1957-1959) and Crazy Cat in "F Troop" (1965) before lending his voice to a series of animated cartoon characters. "The Adventures of Kit Carson" is an early rough-riding treasure from the golden age of TV westerns that brought iconic shows like "The Lone Ranger," "The Cisco Kid," "Roy Rogers" and "Wild Bill Hickok" to small screens across America.
Curse of the Albas: Kit and El Toro rescue a girl from a runaway stage coach, only to learn she is the last surviving member of a family cursed by tragic deaths linked to a lost gold mine.
The Marauder of Madera: A bag of precious eucalyptus seeds in a stolen strongbox of gold proves to be the key to Kit's search for the thieves.
Padre's Treasure: Mistaken for stagecoach robbers and about to be lynched by vigilantes, Carson and El Toro are rescued by the real culprits.
Perilous Trail: Kit and El Toro go undercover to rescue a kidnapped U.S. Army general from a ruthless criminal band.
Keywords:
Movie Lovers' Ratings & Reviews:
Customer Rating:
Based on 5 ratings.

Adventures of Kit Carson Vol 5
Movie Lover:
terence brookes
from
BARROW IN FURNESS, CUMBRIA GB
-- April, 9, 2016
Great series as you sit back and watch the action as he fights against injustice fully recommended to all western lovers
Similar Products
Product Info
Sales Rank: 21,374
UPC: 089218502698
Shipping Weight: 0.25/lbs (approx)
International Shipping: 1 item