Famed hard-boiled wise-cracking detective Martin Kane tracks down more New York City criminals in this early TV crime series.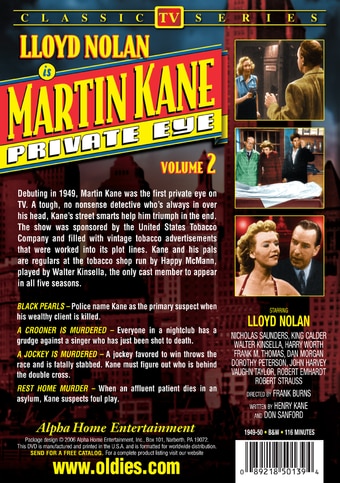 Price:
$

6

.90
List Price:
$8.98
You Save:
$2.08 (23% Off)
Available:
Usually ships in 5-7 business days
DVD Features:
Episodes originally aired in 1949-1950
Rated: Not Rated
Run Time: 1 hours, 56 minutes
Video: Black & White
Encoding: Region 0 (Worldwide)
Released: April 4, 2006
Originally Released: 1951
Label: Alpha Video
Aspect Ratio: Full Frame - 1.33
Audio:
Performers, Cast and Crew:
Entertainment Reviews:
Description by OLDIES.com:
Debuting in 1949, Martin Kane was the first private eye on TV. A tough, no nonsense detective who's always in over his head, Kane's street smarts help him triumph in the end. The show was sponsored by the United States Tobacco Company and filled with vintage tobacco advertisements that were worked into its plot lines. Kane and his pals are regulars at the tobacco shop run by Happy McMann, played by Walter Kinsella, the only cast member to appear in all five seasons.
BLACK PEARLS: Police name Kane as the primary suspect when his wealthy client is killed.
A CROONER IS MURDERED: Everyone in a nightclub has a grudge against a singer who has just been shot to death.
A JOCKEY IS MURDERED: A jockey favored to win throws the race and is fatally stabbed. Kane must figure out who is behind the double cross.
REST HOME MURDER: When an affluent patient dies in an asylum, Kane suspects foul play.
Product Description:
The world's first television private detective, MARTIN KANE PRIVATE EYE gradually became a big hit as America tuned in to watch the affable yet street-smart detective take on the crooks of New York City. The show ran for five seasons with several different actors playing the role of Kane. Each manifestation of the gumshoe had a different style and attitude, but all, invariably, spent a lot of time in Happy McMann's Tobacco Shop (the show was sponsored by U.S. Tobacco). Like much of early television, the sets, props, plots and extras left much to be desired, but Kane's wisecracking mix of cynicism and sentimentality, and the juicy nature of the crimes, kept people coming back for more. Volume Two features four vintage Kane cases: when his wealthy client is murdered Kane himself is fingered for the crime, everyone has a motive to kill a nightclub singer, a crooked jockey gets iced, and a rich patient in an insane asylum dies under mysterious circumstances.
Keywords:
Similar Products
Product Info
Sales Rank: 12,129
UPC: 089218501394
Shipping Weight: 0.26/lbs (approx)
International Shipping: 1 item