Four (more) exciting episodes from the vintage classic TV series.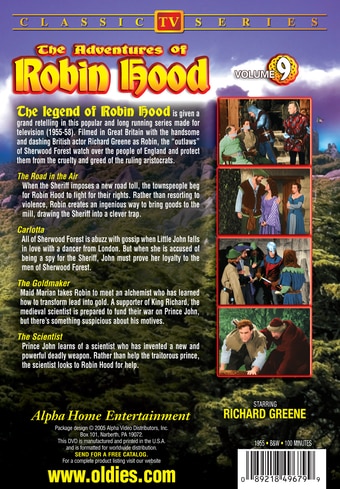 Price:
$

6

.90
List Price:
$8.98
You Save:
$2.08 (23% Off)
Available:
Usually ships in 5-7 business days
Also released as:
DVD Features:
Rated: Unrated
Run Time: 1 hours, 40 minutes
Video: Black & White
Encoding: Region 0 (Worldwide)
Released: February 28, 2006
Originally Released: 1955
Label: Alpha Video
Aspect Ratio: Full Frame - 1.33
Audio:
Performers, Cast and Crew:
Entertainment Reviews:
Description by OLDIES.com:
The legend of Robin Hood is given a grand retelling in this popular and long running series made for television (1955-58). Filmed in Great Britain with the handsome and dashing British actor Richard Greene as Robin, the "outlaws" of Sherwood Forest watch over the people of England and protect them from the cruelty and greed of the ruling aristocrats.
The Road in the Air: When the Sheriff imposes a new road toll, the townspeople beg for Robin Hood to fight for their rights. Rather than resorting to violence, Robin creates an ingenious way to bring goods to the mill, drawing the Sheriff into a clever trap.
Carlotta: All of Sherwood Forest is abuzz with gossip when Little John falls in love with a dancer from London. But when she is accused of being a spy for the Sheriff, John must prove her loyalty to the men of Sherwood Forest.
The Goldmaker: Maid Marian takes Robin to meet an alchemist who has learned how to transform lead into gold. A supporter of King Richard, the medieval scientist is prepared to fund their war on Prince John, but there's something suspicious about his motives.
The Scientist: Prince John learns of a scientist who has invented a new and powerful deadly weapon. Rather than help the traitorous prince, the scientist looks to Robin Hood for help.
Product Description:
Richard Greene played Robin Hood in this British television series (1955-1960) as an upbeat and expansive fellow, and a superb small repertory troupe played different supporting roles. The interior backgrounds were mounted on wheels to facilitate fast shooting, and the studio was located near historic Runnymeade Meadow, the ideal locale for the outdoor scenes. Loosely based on the earlier Douglas Fairbanks and Errol Flynn classic films about a forest bandit with a gang that "steals from the rich and gives to the poor" (that were in turn based on poems and stories dating back 600 years), this children's show remains fondly remembered by those lucky enough to grow up with it.
Keywords:

Similar Products
Product Info
Sales Rank: 30,689
UPC: 089218496799
Shipping Weight: 0.27/lbs (approx)
International Shipping: 1 item