Headline Woman
A fast-talking reporter tries to protect a beautiful young woman who is accused of committing a murder.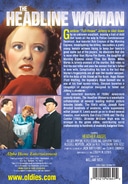 SALE:
$

5

.95
List Price:
$7.98
You Save:
$2.03 (25% Off)
Available:
Usually ships in 1-3 business days
DVD Features:
Rated: Not Rated
Run Time: 1 hours, 2 minutes
Video: Black & White
Encoding: Region 0 (Worldwide)
Released: February 28, 2006
Originally Released: 1935
Label: Alpha Video
Aspect Ratio: Full Frame - 1.33
Audio:
Performers, Cast and Crew:
Entertainment Reviews:
Description by OLDIES.com:
Gambler "Full-House" Johnny is shot down by an unknown assailant, leaving a trail of debt that leads all the way to Police Commissioner Desmond. Ace reporter Bob Grayson of the Morning Express, investigating the killing, encounters a pretty young female witness trying to keep her family's good name out of the papers. He discovers that she is none other than Myrna Van Buren, the daughter of Morning Express owner Titus Van Buren. When Myrna is falsely accused of the murder, Bob vows to find the real killer and save the woman that he's fallen in love with. Complicating his task is the fact that Myrna's fingerprints are all over the murder weapon. With the help of his friend on the force, Hugo Meyer (Ford Sterling, the legendary Mack Sennett star in one of his final screen roles), Grayson launches a campaign of deception designed to ferret out Johnny's murderer.
An excellent example of 1930s' newsroom comedy-drama, The Headline Woman is a remarkable collaboration of several leading motion picture industry talents. The film's editor, Joseph Kane directed hundreds of westerns, while supervising editor Joseph H. Lewis would go on to direct several classics, most notably Gun Crazy (1949) and The Big Combo (1955). Director William Nigh was no stranger to the genre either, contributing solid craftsmanship to hundreds of modestly budgeted films.
Product Description:
A desperate reporter kidnaps his boss's daughter to get the inside scoop on the murder of a gambler in this old-fashioned, frenetic newspaper story.
Keywords:
Movie Lovers' Ratings & Reviews:
Customer Rating:
Based on 119 ratings.

The Headline Woman
Movie Lover:
Barron Berning
from
Kailua Kona, HI US
-- August, 22, 2006
A good example of a movie that has all the things that make a movie something you want to watch. Fun, drama and a plot. Most movies are lucky to have one of the above items, it is rare to find all three in one movie. I almost gave it 4 1/2 stars, but I must reserve the top most ratings for only a very very few movies.
Similar Products
Product Info
Sales Rank: 39,265
UPC: 089218496492
Shipping Weight: 0.27/lbs (approx)
International Shipping: 1 item