Follow That Man (aka Man Against Crime) - Volume 2
Ralph Bellamy plays tough-talking private eye Mike Barnett is four (more) classic episodes of the early TV detective series.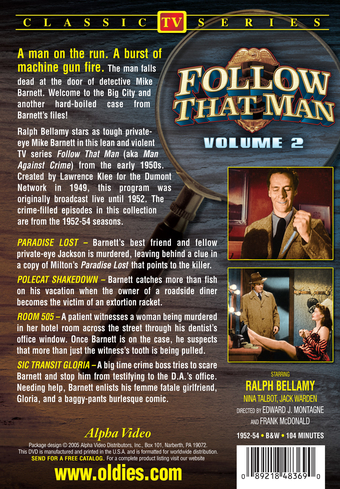 SALE:
$

5

.95
List Price:
$7.98
You Save:
$2.03 (25% Off)
Available:
Usually ships in 1-3 business days
Also available in a set:
DVD Features:
Rated: Not Rated
Run Time: 1 hours, 44 minutes
Video: Black & White
Released: June 28, 2005
Originally Released: 1952
Label: Alpha Video
Encoding: Region 0 (Worldwide)
Packaging: Keep Case
Aspect Ratio: Full Frame - 1.33
Performers, Cast and Crew:
Entertainment Reviews:
Description by OLDIES.com:
A man on the run. A burst of machine gun fire. The man falls dead at the door of detective Mike Barnett. Welcome to the Big City and another hard-boiled case from Barnett's files!
Ralph Bellamy stars as tough private-eye Mike Barnett in this lean and violent TV series "Follow That Man" (aka "Man Against Crime") from the early 1950s. Created by Lawrence Klee for the Dumont Network in 1949, this program was originally broadcast live until 1952. The crime-filled episodes in this collection are from the 1952-54 seasons.
Paradise Lost: Barnett's best friend and fellow private-eye Jackson is murdered, leaving behind a clue in a copy of Milton's Paradise Lost that points to the killer.
Polecat Shakedown: Barnett catches more than fish on his vacation when the owner of a roadside diner becomes the victim of an extortion racket.
Room 505: A patient witnesses a woman being murdered in her hotel room across the street through his dentist's office window. Once Barnett is on the case, he suspects that more than just the witness's tooth is being pulled.
Sic Transit Gloria: A big time crime boss tries to scare Barnett and stop him from testifying to the D.A.'s office. Needing help, Barnett enlists his femme fatale girlfriend, Gloria, and a baggy-pants burlesque comic.
Product Description:
Four episodes from the vintage TV show FOLLOW THAT MAN are included on this release. Tracking the fortunes of hard-bitten private detective Mike Barnett (Ralph Bellamy), the show gave him some tough cases to crack, as robbers, con men, and other shadowy figures from the criminal underworld attempt to ply their trades. FOLLOW THAT MAN aired live at its inception, but these episodes from 1952 to 1954 were pre-recorded.
Keywords:
Similar Products
Product Info
Sales Rank: 40,343
UPC: 089218483690
Shipping Weight: 0.27/lbs (approx)
International Shipping: 1 item