Boris Karloff hosts stars in five tales of mystery and horror.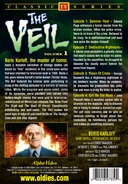 SALE:
$

5

.95
List Price:
$7.98
You Save:
$2.03 (25% Off)
Available:
Usually ships in 1-3 business days
DVD Features:
Rated: Not Rated
Run Time: 1 hours, 45 minutes
Video: Black & White
Encoding: Region 0 (Worldwide)
Released: April 26, 2005
Originally Released: 1958
Label: Alpha Video
Packaging: Keep Case
Aspect Ratio: Full Frame - 1.33
Audio:
Performers, Cast and Crew:
Entertainment Reviews:
Description by OLDIES.com:
Boris Karloff, the master of horror, hosts a macabre collection of strange stories (all based on "true" incidents) in this rarely-seen series that was intended for television back in 1958. Made a few years before Karloff's better-known "Thriller" show, "The Veil" featured the veteran actor performing in many of the chilling episodes in a variety of creepy roles. While the program was never aired, some of its episodes were plucked and edited into feature-length movies that were sold to television, reminiscent of theatrical releases like
Tales From The Crypt
and
The Vault Of Horror
. Exceptionally entertaining and well-made, "The Veil" evokes the same type of edge-of-your-seat thrills as "The Twilight Zone" and "One Step Beyond."
Episode 1 - "Summer Heat": Edward Page witnesses a brutal murder from his kitchen window. When the police arrive, there is no trace of the crime. Believed to be crazy, he is institutionalized and must now solve the murder himself.
Episode 2 - "Destination Nightmare": A novice pilot encounters a ghostly vision that nearly causes him to crash his plane. Haunted by the apparition, he struggles to discover the deadly secret behind the voice from beyond.
Episode 3 - "Vision Of Crime": George Bosworth has a frightening nightmare of his brother's murder. When he awakens, he discovers his premonition has come true and vows to bring the killer to justice.
Episode 4 - "Girl On The Road": John Prescott helps a beautiful woman who is stranded on the roadside, only to discover she is trying to escape a mysterious man. The girl soon vanishes and he gets an ominous warning to forget about her. Undaunted, he relentlessly pursues her and makes an unsettling discovery.
Volume 1 and Volume 2 contain eight of the ten episodes produced of this series. The remaining two episodes can be found on the DVD Lights Out! And Other Supernatural Tales, Volume 1 (ALP 4832D).
Product Description:
Four short tales of horror produced for television but never aired.
Keywords:
Similar Products
Product Info
Sales Rank: 54,986
UPC: 089218473394
Shipping Weight: 0.26/lbs (approx)
International Shipping: 1 item