Four (more) exciting episodes from the vintage classic TV series.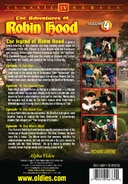 Price:
$

6

.90
List Price:
$8.98
You Save:
$2.08 (23% Off)
Available:
Usually ships in 5-7 business days
Also released as:
DVD Features:
Rated: Not Rated
Run Time: 1 hours, 40 minutes
Video: Black & White
Released: February 22, 2005
Originally Released: 1955
Label: Alpha Video
Encoding: Region 0 (Worldwide)
Packaging: Keep Case
Aspect Ratio: Full Frame - 1.33
Performers, Cast and Crew:
Entertainment Reviews:
Description by OLDIES.com:
The legend of Robin Hood is given a grand retelling in this popular and long running series made for television (1955-58). Filmed in Great Britain with the handsome and dashing British actor Richard Greene as Robin, the "outlaws" of Sherwood Forest watch over the people of England and protect them from the cruelty and greed of the ruling aristocrats.
Episode 1 - Fair Play: Disguised as a troupe of Bavarian acrobats three members of Robin's loyal band head for the annual fair at Nottingham. Their "undercover" plan works well until the unscrupulous gypsy fortune teller, Madam Zsa Zsa, reveals their secret, resulting in their arrest by the Sheriff of Nottingham.
Episode 2 - The Secret Pool: Robin Hood and Maid Marian go fishing in a hidden pool - a tributary loaded with large fish that leads directly to Sir Cedric's private lake. After observing Cedric's men arresting a poor serf for poaching, Marian visits the eccentric lord to beg for the man's release while Robin tries a different approach - using Cedric's lifelong love of fishing as "bait."
Episode 3 - The Black Five: For once Robin Hood and his arch-enemy, the Sheriff of Nottingham, work together hoping to capture the Duke DeMoreville, a power-hungry monster that villagers call "The Hangman Of Leicester.".
Episode 4 - One Man's Meat: Friar Tuck and Robin can't wait for their usually sumptuous dinner at the farmhouse of Master Edmund Woodstock. This time, however, the feast turns into a fiasco. The Master insists that everyone, including his undernourished servants, eat only one dish and a dry grain mixture he proudly calls the "New Ambrosia." It's up to Robin to convince the eccentric farmer that the mealy stuff is hardly a meal at all.
Product Description:
Richard Greene played Robin Hood in this British television series (1955-1960) as an upbeat and expansive fellow, and a superb small repertory troupe played different supporting roles. The interior backgrounds were mounted on wheels to facilitate fast shooting, and the studio was located near historic Runnymeade Meadow, the ideal locale for the outdoor scenes. Loosely based on the earlier Douglas Fairbanks and Errol Flynn classic films about a forest bandit with a gang that "steals from the rich and gives to the poor" (that were in turn based on poems and stories dating back 600 years), this children's show remains fondly remembered by those lucky enough to grow up with it.
Keywords:

Similar Products
Product Info
Sales Rank: 31,373
UPC: 089218467690
Shipping Weight: 0.29/lbs (approx)
International Shipping: 1 item