Tales from the anthology series depicting the rise and fall of violent public enemies.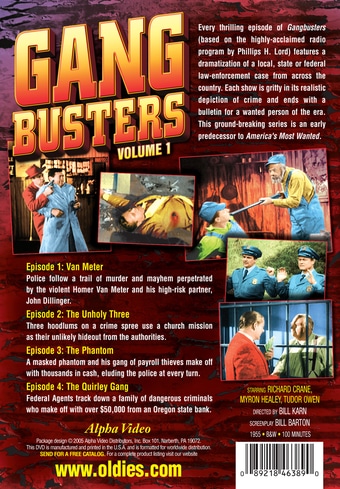 SALE:
$

5

.95
List Price:
$7.98
You Save:
$2.03 (25% Off)
Available:
Usually ships in 1-3 business days
DVD Details
Rated: Not Rated
Run Time: 1 hours, 40 minutes
Video: Black & White
Encoding: Region 0 (Worldwide)
Released: January 25, 2005
Originally Released: 1952
Label: Alpha Video
Performers, Cast and Crew:
Entertainment Reviews:
Description by OLDIES.com:
Every thrilling episode of "Gang Busters" (based on the highly-acclaimed radio program by Phillips H. Lord) features a dramatization of a local, state or federal law-enforcement case from across the United States. Each show is gritty in its realistic depiction of crime and ends with a bulletin for a wanted person of the era. This ground-breaking series is an early predecessor to
American's Most Wanted
.
This volume includes the episodes:
Homer Van Meter
The Unholy Three
The Phantom
The Quirley Gang
Keywords:
Movie Lovers' Ratings & Reviews:
Customer Rating:
Based on 8 ratings.

One of the better early cops shows on TV
Movie Lover:
Martin Grams
from
Pennsylvania
-- May, 13, 2005
Regardless of what people continue to write in encyclopedias and web-sites, GANG BUSTERS was not the highest rated show to ever be cancelled from prime time. It had two runs. The first was over NBC on a rotating basis with DRAGNET and after fulfilling a 17-episode contract, Phillips H. Lord, the creator of the series, stopped producing TV episodes due to advice of his doctor. More than 40% of the American public tuned in each weke to watch the dramas but the show was NEVER cancelled. A second series of GANG BUSTERS TV shows were later produced (this time for syndication) by Lord, and this DVD features four of those classic episodes. Production #220 "The Quirley Gang" features Ken Christy in the lead. Production #226 "Homer Van Meter" was based on the April 15, 1936 radio script of the same name. Production #229 "The Unholy Trio" was based on the June 18, 1943 radio script "The Case of Arnett Booth". (Trivia: "The Unholy Trio" was originally titled "The Mission Robberies") Production #230 "The Case of the Phantom" was based on one of the most acclaimed episodes of the radio program, "The Phantom of the Coal Fields" from November 1936. Final trivia about these episodes: Lord choosed criminals who were already dead to film for his TV series purposely so they couldn't enter a suit against him for portraying them on TV.