Four (more) exciting episodes of the extremely popular adventure series starring Jon Hall as the great white witch doctor who faces the terrors of the jungle.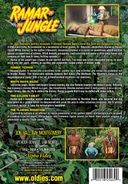 Price:
$

6

.90
List Price:
$8.98
You Save:
$2.08 (23% Off)
Available:
Usually ships in 5-7 business days
DVD Features:
Rated: Not Rated
Run Time: 1 hours, 45 minutes
Video: Black & White
Released: October 26, 2004
Originally Released: 1953
Label: Alpha Video
Encoding: Region 0 (Worldwide)
Packaging: Keep Case
Aspect Ratio: Full Frame - 1.33
Performers, Cast and Crew:
Entertainment Reviews:
Description by OLDIES.com:
Dr. Tom Reynolds and his associate Professor Howard Ogden travel the dark and dangerous jungles of Africa and India. Accompanied by a succession of local guides, Dr. Reynolds, respectfully known as Ramar (Great White Doctor) to the native tribesmen, becomes involved in a series of adventures which set him against an assortment of villains. Witch Doctors, smugglers, mad scientists and exotic wildlife, keep Ramar and company on their toes in every thrilling episode. "Ramar Of The Jungle" was created by and starred Jon Hall. The show was wildly successful during its short run of only 2 years, offering an exciting and sometimes violent picture of distant lands.
Zombie Terror: Howard Ogden is turned into a mindless killer zombie by a mad scientist who sends the professor out to murder Ramar. This memorable episode features Kurt Katch (The Wolf Man, The Mummy's Curse) as the megalomaniacal doctor with a hut full of hand-cranked electronic ray machines.
White Man's Magic: Lost in the jungle, insane ventriloquist Conway (cowboy star Max Terhune) wanders into Ramar's camp. Believing that Conway's dummy Albert is a god, the bloodthirsty Otambe natives steal it and worship it on a shrine. When Conway risks his life to retrieve the dummy, Ramar suspects that it may be stuffed with stolen radium.
The Golden Tablet: Ramar and a beautiful woman (Anne Gwynne) are confronted by Thurston Blake, who believes that the inscription on a golden tablet he discovered will point the way to other priceless treasures. He is willing to commit murder to have the hieroglyphics translated.
The Flaming Mountain: Captured by natives in an attempt to regain possession of the golden tablet, archeologists are accused of breaking a sacred taboo. While Ramar and Professor Ogden search for them, their captors prepare to administer a deadly "truth serum."
Product Description:
Mysterious happenings unfurl in the wilds of India, as Dr. Tom Reynolds (Jon Hall) and Professor Howard Ogden (Ray Montgomery) run into mysterious cults and rituals in this popular television series. Reynolds is knows as "Ramar" to the natives--hence the title of the show--and dispenses aid to them while under attack from fearsome witchdoctors, and other treacherous jungle dwellers. The show ran for two years, from 1952-1954, and this releases forms the fifth volume of episodes from the show.
Keywords:

Similar Products
Product Info
Sales Rank: 12,216
UPC: 089218454690
Shipping Weight: 0.28/lbs (approx)
International Shipping: 1 item