Four exciting episodes of action with the great white witch doctor in the jungles of Asia.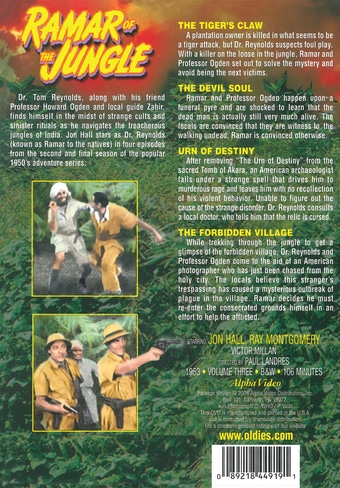 Price:
$

6

.90
List Price:
$8.98
You Save:
$2.08 (23% Off)
Available:
Usually ships in 5-7 business days
DVD Features:
Rated: Not Rated
Run Time: 1 hours, 46 minutes
Video: Black & White
Released: August 31, 2004
Originally Released: 1953
Label: Alpha Video
Encoding: Region 0 (Worldwide)
Packaging: Keep Case
Aspect Ratio: Full Frame - 1.33
Performers, Cast and Crew:
Entertainment Reviews:
Description by OLDIES.com:
Dr. Tom Reynolds, along with his friend Professor Howard Ogden and local guide Zahir, finds himself in the midst of strange cults and sinister rituals as he navigates the treacherous jungles of India. Jon Hall stars as Dr. Reynolds (known as Ramar to the natives) in four episodes from the second and final season of the popular 1950's adventure series.
The Tiger's Claw: A plantation owner is killed in what seems to be a tiger attack, but Dr. Reynolds suspects foul play. With a killer on the loose in the jungle, Ramar and Professor Ogden set out to solve the mystery and avoid being the next victims.
The Devil Soul: Ramar and Professor Ogden happen upon a funeral pyre and are shocked to learn that the dead man is actually still very much alive. The locals are convinced that they are witness to the walking undead; Ramar is convinced otherwise.
Urn Of Destiny: After removing "The Urn of Destiny" from the sacred Tomb of Akara, an American archaeologist falls under a strange spell that drives him to murderous rage and leaves him with no recollection of his violent behavior. Unable to figure out the cause of the strange disorder, Dr. Reynolds consults a local doctor, who tells him that the relic is cursed.
The Forbidden Village: While trekking through the jungle to get a glimpse of the forbidden village, Dr. Reynolds and Professor Ogden come to the aid of an American photographer who has just been chased from the holy city. The locals believe this stranger's trespassing has caused a mysterious outbreak of plague in the village. Ramar decides he must re-enter the consecrated grounds himself in an effort to help the afflicted.
Product Description:
Mysterious happening unfurl in the wilds of India, as Dr. Tom Reynolds (Jon Hall) and Professor Howard Ogden (Ray Montgomery) run into mysterious cults and rituals in this popular television series. Reynolds is knows as "Ramar" to the natives--hence the title of the show--and dispenses aid to natives under attack from fearsome witchdoctors, and other treacherous jungle dwellers. The show ran for two years, from 1952-1954, and this releases captures four episodes from the second and final series, namely: "The Tiger's Claw," "The Devil Soul," "Urn of Destiny," and "The Forbidden Village."
Keywords:

Similar Products
Product Info
Sales Rank: 10,872
UPC: 089218449191
Shipping Weight: 0.31/lbs (approx)
International Shipping: 1 item