Mondo Balordo
An incredible documentary of strange and bizarre rituals from around the world.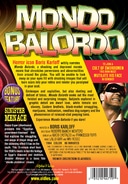 Price:
$

6

.90
List Price:
$8.98
You Save:
$2.08 (23% Off)
Available:
Usually ships in 5-7 business days
DVD Features:
Rated: Not Rated
Run Time: 1 hours, 26 minutes
Video: Color
Released: August 31, 2004
Originally Released: 1964
Label: Alpha Video
Encoding: Region 0 (Worldwide)
Packaging: Keep Case
Aspect Ratio: Full Frame - 1.33
Performers, Cast and Crew:
Description by OLDIES.com:
Horror icon Boris Karloff wittily narrates
Mondo Balordo
, a shocking and depraved mondo movie that chronicles perversions and abnormalities from around the globe. You will be unable to look away as your eyes fill with shocking images that will burn scars into your retina and render you paralyzed in your seat. Grotesque and exploitive, but also riveting and defiant of taboo,
Mondo Balordo
seeks out the most twisted and surprising images. Subjects explored in graphic detail are dwarf love, white female sex slavery, Eastern brothels, black-market smuggling, marijuana, lesbianism, needless dog surgery and the phenomenon of raincoat-clad peeping toms. Experience
Mondo Balordo
if you dare!
THIS DOCUMENTARY IS PRESENTED UNCUT AND THEREFORE CONTAINS GRAPHIC SCENES OF VIOLENCE AND ADULT SITUATIONS WHICH SOME MAY FIND OBJECTIONABLE. VIEWER DISCRETION IS ADVISED.
Product Description:
A vintage "mondo-mentary" surveying the weirdness of the world including transvestites, lesbian bars, savage rituals, Hercules films, bondage in Japan, Rudolph Valentino reincarnated, and more.
Keywords:
Movie Lovers' Ratings & Reviews:
Customer Rating:
Based on 262 ratings.

Turns out the world's not so strange after all...
Movie Lover:
call me Z
from
somewhere out there
-- May, 12, 2006
Also known as A Fool's World. Boris Karloff narrates this Italian mondo documentary of supposedly strange things from around the world. We get to see a singing and dancing midget (which means I got my money's worth already - I loves me some talented midgets!), behind-the-scenes footage of Italian muscleman epics (the movie Samson specifically, I think), Hong Kong bondage photo shoots, an African elephant hunt, a transvestite nightclub in Germany, lesbians dancing with each other, female wrestlers (with balloons), the butchering of a sea turtle, Indians in Ecuador who chew cocaine leaves, junkies in Hong Kong, Jehovah's Witnesses, the Berlin Wall, crippled dogs, Arab girls bleaching their hair with camel urine, peeping toms, the island of Capri, and more. Unfortunately, the stuff I've listed are the highlights. Boris tries gamely to make it all seem exotic, significant, or at least sorta interesting, but he hasn't been given much to work with, and this soon becomes more mundane than mondo, with no nudity and very little gore or even anything all that bizarre. Tamest mondo movie ever.
Mondo Balordo
Movie Lover:
RJ
from
ohio
-- November, 3, 2004
Don't let the cover fool you. The only thing strange or bizarre about this movie are
the people who buy it.
An interesting look at our weird world!
Movie Lover:
Kevin William Wardle
from
County Durham, England UK
-- October, 10, 2004
I've seen a few Mondo Movies, most of which are very trashy, and this one is no exception! It's only saving grace is that it is narrated by the one and only Boris Karloff! You can also get this from another studio, however, I would buy this version first! It is very intersting, bizarre and VERY weird! They could only make films like this in the 60's! Alpha has done a great job with this package as usual & there is even a bonus feature on drug culture included. The dvd packaging is great too!
Similar Products
Product Info
Sales Rank: 16,804
UPC: 089218447197
Shipping Weight: 0.26/lbs (approx)
International Shipping: 1 item