The Royal Bed
A lackadaisical king is confronted by a revolution when his iron-fisted wife takes a vacation.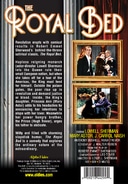 SALE:
$

5

.95
List Price:
$7.98
You Save:
$2.03 (25% Off)
Available:
Usually ships in 1-3 business days
DVD Features:
From the play by Robert Emmet Sherwood
Rated: Not Rated
Run Time: 1 hours, 13 minutes
Video: Black & White
Released: June 22, 2004
Originally Released: 1931
Label: Alpha Video
Encoding: Region 0 (Worldwide)
Packaging: Keep Case
Aspect Ratio: Full Frame - 1.33
Performers, Cast and Crew:
Description by OLDIES.com:
Revolution erupts with comical results in Robert Emmet Sherwood's behind-the-throne satirical classic,
The Royal Bed.
Hapless reigning monarch (actor-director Lowell Sherman) lets the Queen rule their small European nation, but when she takes off for a tour of the Americas, the King must fend for himself. Outside the palace gates, the poor rise up in revolution and demand justice or blood. Inside, the King's daughter, Princess Ann (Mary Astor) adds to his headaches by announcing her intentions to elope with her lover. Meanwhile her power hungry brother, the Prince (Hugh Trevor), urges his father to abdicate.
Witty and filled with charming slapstick humor, The Royal Bed is a comedy that explores the ordinary nature of the extraordinary.
Product Description:
A comedy-drama based on a play by Robert Sherwood about the foibles of royalty. The royal family of a small European kingdom is overwhelmed by the uprising of their people and are eager to renounce the throne. Adding to complications, the Royal
Princess refuses to marry within royalty after she falls for a simple commoner.
Plot Synopsis:
Despite being the monarch of a small country, Eric VIII is a screw-up and a layabout who lets his domineering wife rule the kingdom. Then the Queen leaves the country, and Eric suddenly must confront such royal crises as an impending revolution. The King sets out to surprise everyone -- including himself -- by taking his job more seriously... and making some unusual decisions....
Keywords:
Production Notes:
Produced and distributed by Radio Pictures.
This film was adapted from Robert E. Sherwood's stage play, "The Queen's Husband."
Movie Lovers' Ratings & Reviews:
Customer Rating:
Based on 223 ratings.

Pleasant light comedy
Movie Lover:
John Walter
from
MIDDLE VILLAGE, NY US
-- February, 17, 2011
This 1931 comedy is not quite as funny as it is fun. Made in the midst of the Depression, the pomp and splendor of a monarchy (even one subject to a revolution or two)must have seemed magical. Not a great film by any standard by I can think of worse ways of spending a little over an hour.
Royal Yawn
Movie Lover:
the Jax
from
California
-- October, 25, 2005
This story probably worked better as a stage play, which is how it was originally written. As a movie, it seems rather talky, hard to get into and with some flat performances. I was expecting it to be a lot funnier, like The Front Page and Philadelphia Story. The Royal Bed still has its clever moments, but most of the humor is very subtle.
Similar Products
Product Info
Sales Rank: 40,218
UPC: 089218442994
Shipping Weight: 0.26/lbs (approx)
International Shipping: 1 item