Student of Prague (1913)
A man sells his shadow to the devil in exchange for a life of debauchery. Includes new compelling film score by Paul Bergel.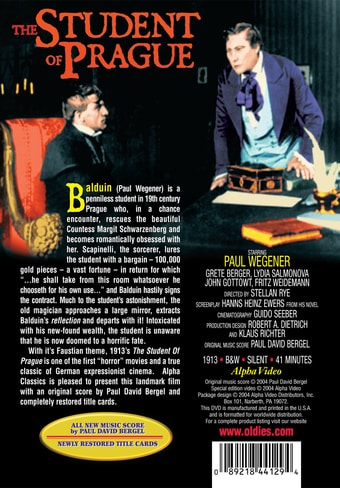 SALE:
$

5

.95
List Price:
$7.98
You Save:
$2.03 (25% Off)
Available:
Usually ships in 1-3 business days
DVD Features:
Rated: Not Rated
Run Time: 41 minutes
Video: Black & White
Released: May 25, 2004
Originally Released: 1913
Label: Alpha Video
Encoding: Region 0 (Worldwide)
Packaging: Keep Case
Aspect Ratio: Full Frame - 1.33
Performers, Cast and Crew:
Description by OLDIES.com:
Balduin (Paul Wegener) is a penniless student in 19th century Prague who, in a chance encounter, rescues the beautiful Countess Margit Schwarzenberg and becomes romantically obsessed with her. Scapinelli, the sorcerer, lures the student with a bargain - 100,000 gold pieces - a vast fortune - in return for which "...he shall take from this room whatsoever he chooseth for his own use..." and Balduin hastily signs the contract. Much to the student's astonishment, the old magician approaches a large mirror, extracts Balduin's reflection and departs with it! Intoxicated with his new-found wealth, the student is unaware that he is now doomed to a horrific fate.
With it's Faustian theme, 1913's The Student Of Prague is one of the first "horror" movies and a true classic of German expressionist cinema. Alpha Video is pleased to present this landmark film with an original score by Paul David Bergel and completely restored title cards.
Product Description:
Paul Wegener and Stellan Rye's THE STUDENT OF PRAGUE is one of the earliest silent horror films, following Georges Melies' horror shorts and Thomas Edison's 1910 version of FRANKENSTEIN. The film, which is based on the Faust legend, along with Wegener's three versions of THE GOLEM, directly influenced future German horror films (THE CABINET OF DR. CALIGARI, NOSFERATU). Balduin (Wegener) is the best student and swordsman in Prague, but he confides to creepy, mysterious Scapinelli (John Gottowt), that he really desires money or a rich heiress. Balduin fortuitously saves Countess Margit (Grete Berger) from a riding accident, and instantly falls in love. Margit doesn't love her fiancé, the Baron (Fritz Weidemann), but Balduin's poverty discourages him from pursuing her. One day, Scapinelli appears in Balduin's room offering riches in exchange for something in the student's room. Balduin eagerly signs the proffered contract, but is shocked when Scapinelli takes his image from the mirror. Only the smitten gypsy girl Lyduschka (Lyda Salmonova) realizes the true gravity of the situation until Balduin's doppelganger begins wreaking havoc. Wegener's gripping horror classic features strong performances, lovely location shooting and some surprising special effects for such an early film.
Keywords:
Movie Lovers' Ratings & Reviews:
Customer Rating:
Based on 2146 ratings.

Student of Prague for students of film.
Movie Lover:
James Wilson
from
Newport News, VA US
-- June, 22, 2004
Alpha Video is to be commended for releasing an important classic of early cinema: Paul Wegener's, "Student of Prague."
It is a pretty good print with a very good score and is virtually the only copy on the DVD market.
Student of Prague is a classic story of Balduin, a student/fencing expert who sells his soul to the devil with the expected disastrous results.
But the surprises are the sets, camera motion and exterior shots in such an early motion picture.
It is also fun to watch Wegener as a much younger (and slimmer) man than we see in his film, "The Golem."
I hope that Alpha will continue releasing early silent cinema classics especially at such an attractive price.
Similar Products
Product Info
Sales Rank: 56,441
UPC: 089218441294
Shipping Weight: 0.25/lbs (approx)
International Shipping: 1 item