A Shriek in the Night
The police are baffled by a series of "accidental" deaths that may actually be murders.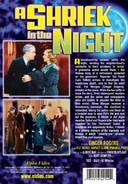 Price:
$

6

.98
List Price:
$8.98
You Save:
$2 (22% Off)
Available:
Usually ships in 5-7 business days
Also released as:
DVD Features:
Rated: Unrated
Run Time: 1 hours, 7 minutes
Video: Black & White
Released: September 9, 2003
Originally Released: 1933
Label: Alpha Video
Encoding: Region 0 (Worldwide)
Packaging: Keep Case
Aspect Ratio: Full Frame - 1.33
Performers, Cast and Crew:
Description by OLDIES.com:
A bloodcurdling scream splits the night, sending the neighborhood's residents to their windows in terror. A gruesome scene awaits them - the lifeless body of a millionaire sprawled on the pavement. Reporter Ted Rand (Lyle Talbot) arrives to investigate the mysterious death, only to find his chief rival, Pat Morgan (Ginger Rogers), already on the scene. While the two battle to break the story, three subsequent murders follow, and the police and newspapers alike are unable to uncover the killer in their midst. When Morgan receives a threatening message, the manhunt is redoubled, taking the police and Rand on a frenzied race to save Pat's life and root out the murderer.
A Shriek in the Night reunites Talbot and Rogers after their work together in The Thirteenth Guest. A breathless and suspenseful thriller, it stands as a shining example of the ingenuity and finesse of which "poverty-row" director Albert Ray was capable.
Product Description:
A shrill scream disrupts the night, and a man plummets from a penthouse balcony to his death, setting in motion this clever absorbing mystery.
Plot Synopsis:
Two young reporters try to get to the bottom of a string of mysterious murders plaguing an upscale apartment building. Although Patricia Morgan and Ted Rand are in love with each other, they are rivals eager to get the scoop on the story. Finding the killer won't be easy, however, because the only clue they have to go on is a menacing card that is left on the victims' bodies...
Keywords:
Production Notes:
An Allied Production release.
Released theatrically in New York City July, 1933.
Movie Lovers' Ratings & Reviews:
Customer Rating:
Based on 1065 ratings.

A Shriek in the Night
Movie Lover:
VK
from
Blackwood, NJ USA
-- September, 18, 2008
"A Shriek in the Night" is a delight to watch in the night. The gruesome scenes are so gritty. This movie is perfect to watch when you know that there will be no interruptions while viewing. The love story between Ted (Lyle Talbot) and Pat (Ginger Rogers) is too cute for words. If you like old movies...see this one.
Early Ginger in a whodunnit
Movie Lover:
Oldies Fan
from
USA
-- November, 25, 2005
It was nice to see Ginger Rogers as a snappy reporter in "A Shriek in the Night". The film is obviously a low-budget production and the many jewels in Ginger's crown were to come later, but this little film isn't bad. Lyle Talbot was okay as Ginger's rival reporter and Purnell Pratt did a good job as the Police Inspector. Louise Beavers (billed in the credits as "Louise Beaver") adds some campiness as the frightened maid. However, Lillian Harmer is absolutely excruciating as Augusta, the Housekeeper. It's a wonder that she wasn't on the maniac's hit list! You'll never get Talbot's explanation to Rogers at the films ending until you've rewound the disc a couple of times and listen to it over again. Overall, I enjoyed this film, but I enjoyed the other Rogers/Talbot film "The Thirteenth Guest" better.
Shriek in the Night with Ginger and Co.
Movie Lover:
Laura Demilio
from
Pittsburgh, PA US
-- July, 8, 2005
It was a delightful surprise to find Louise Beavers in this movie, even though, as usual, she was cast as a maid - but one with bite and humor. This was an interesting little story - the clothes and cars were great, and instead of low-budget never-heard-of-'em actors we see people we know.
An economical thriller . . .
Movie Lover:
Dan Nather
from
Cincinnati, OH US
-- November, 5, 2004
. . . but it's the romantic bantering of Ginger Rogers and Lyle Talbot that make this picture. Although well-directed, I found it a little unsatisfying as a mystery; the wrap-up contained too many details not even hinted at earlier in the film. Lyle Talbot had so much explaining to do, I had to watch the ending three times to take it all in!

The film is hampered by many of the usual problems faced in Poverty Row productions -- harsh lighting, boxy sound, some unflattering camera set-ups, and ineffective acting by a few in the cast. But as I said before, it's the chemistry between Rogers and Talbot that make this picture a keeper. Both turn in funny and breezy performances.
Took a second look!
Movie Lover:
henri donadille
from
clamart, Hauts-de-Seine FR
-- March, 29, 2004
I noticed something the second time that I watched this which doesn't make sense. At the end of the picture the assassin puts the unconscious Ginger into the furnace and then is called away. When he returns, he lights the furnace but Ginger isn't there anymore, she's on the cellar floor! If her escape had been filmed it wound up on the cutting room floor. Took a look in Ginger's autobiography to see if she mentioned why and found that she barely mentioned this film! oh well!

A Shriek In The Night
Movie Lover:
henri donadille
from
clamart, Hauts-de-Seine FR
-- March, 27, 2004
Povery row programmer reuniting Ginger and Lyle from previous years 'The Thirteenth Guest'(which is actually a bit better!). Young Ginger is fun to watch and is often hilarious as snoopy reporter in large apartment house trying to solve series of murders. Nice sets for a low-budget film. Didn't know who murderer was at all until he was shown doing up to no good and didn't know his motives until the very end of the picture!
Similar Products
Product Info
Sales Rank: 11,242
UPC: 089218421494
Shipping Weight: 0.25/lbs (approx)
International Shipping: 1 item