Night of The Blood Beast
An astronaut lands on earth with his body contaminated by alien embryos.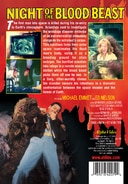 SALE:
$

5

.95
List Price:
$7.98
You Save:
$2.03 (25% Off)
Available:
Usually ships in 1-3 business days
DVD Features:
Rated: Not Rated
Run Time: 1 hours, 2 minutes
Video: Black & White
Released: August 12, 2003
Originally Released: 1958
Label: Alpha Video
Encoding: Region 0 (Worldwide)
Packaging: Keep Case
Aspect Ratio: Full Frame - 1.33
Performers, Cast and Crew:
Description by OLDIES.com:
The first man into space is killed during his re-entry to Earth's atmosphere. Scientists sent to investigate the wreckage discover evidence of an extraterrestrial stowaway alongside the astronaut's corpse. This insidious force from outer space reanimates the dead man's body, using it as a breeding ground for alien embryos. The horrified scientists take refuge in a remote research station while the blood beast picks them off one by one. In a fiery, other-worldly climax the monster reveals his intentions in a dramatic confrontation between the space invader and the forces of Earth.
Product Description:
The first man in space returns to Earth, appearing to be dead. While on his mission, he encountered a mysterious alien, which impregnated him with its young. Now on Earth, the alien finally emerges and the entire human race is in danger! This rare, low-budget work was executive-produced by Roger Corman.
Keywords:
Movie Lovers' Ratings & Reviews:
Customer Rating:
Based on 2109 ratings.

What they said only more of it
Movie Lover:
Big Dix
from
Our Town, USA
-- June, 7, 2004
I have nothing to add to what Film Flops and Rod have already mentioned except to say that it really is much worse (and not in the good sort of way) than they suggest.

Now you cannot argue that it was not a good idea. Sigorney Weaver has made a lot of dough playing an astronaut who brought back space aliens . However this dreadful script, pityfull production values and total lack of cohesion combine to make a total waste of 5.99 plus shipping and handling.

One thing I really didn't get was why the Blood Beast had to die. Near the aforementioned cave scene the gruesome creature babbles something about how sorry he was to have killed a lab assistant or two and would enjoy teaching mankind to live in peace and harmony with each other the rest of the universe but (and I may be way off base here) in order to do so we must become ugly blood beast. This seems to infuriate the villagers (or the army or whoever was chasing him) and they kill him.

Order Terror Creatures from the Grave instead. Invite the neighbors over for spagetti.




For Want of a Budget...
Movie Lover:
FilmFlops Critic
from
Trumbull, CT US
-- June, 2, 2004
Reviewer Rod Williams 'its the nail on the 'ead, so to speak. This B-movie made (probably) for drive-in theatre consumption oozes with "might-have-been" greatness. The story is sound but the treatment is pure cheap-o. At the "thrilling" climax, I expected George Barrows to come out of the cave in his Ro-man costume (gorilla suit and diving helmet) and assist the alien antagonist of this film. Fun viewing if only to wistfully imagine what might have been...
low budget fore-runner of 'alien'
Movie Lover:
Rod Williams
from
LONDON, England UK
-- January, 18, 2004
A dead astronaut has brought something back with him from space, since it transpires that Earth's orbit is swarming with aliens, just waiting for a lift down to the planet. Their aim is to use our bodies in which to grow their offspring and also 'preserve' our memories within themselves. Alien mayhem ensues.
There's a couple of instances of film-damage and some bad cuts, but not enough to spoil one's enjoyment.
Similar Products
Product Info
Sales Rank: 40,220
UPC: 089218420794
Shipping Weight: 0.27/lbs (approx)
International Shipping: 1 item