The Texas Rangers: Spook Town
A phantom killer murders his victim in the dead of night as the Texas Rangers set a trap.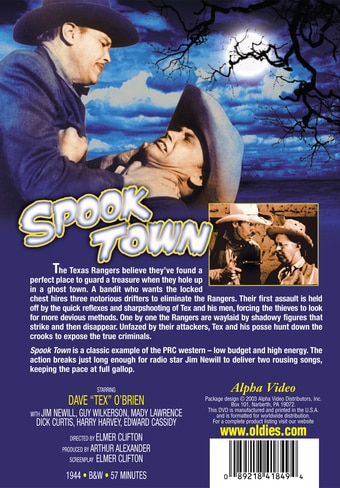 SALE:
$

5

.95
List Price:
$7.98
You Save:
$2.03 (25% Off)
Available:
Usually ships in 1-3 business days
More products that might interest you:
Classic Western Collection: 20 Full Color Vintage Movie Postcards (Movie Collectible)
$7.98
DVD Features:
Rated: Not Rated
Run Time: 57 minutes
Video: Black & White
Released: July 15, 2003
Originally Released: 1944
Label: Alpha Video
Encoding: Region 0 (Worldwide)
Packaging: Keep Case
Aspect Ratio: Full Frame - 1.33
Performers, Cast and Crew:
Entertainment Reviews:
Description by OLDIES.com:
The Texas Rangers believe they've found a perfect place to guard a treasure when they hole up in a ghost town. A bandit who wants the locked chest hires three notorious drifters to eliminate the Rangers. Their first assault is held off by the quick reflexes and sharpshooting of Tex and his men, forcing the thieves to look for more devious methods. One by one the Rangers are waylaid by shadowy figures that strike and then disappear. Unfazed by their attackers, Tex and his posse hunt down the crooks to expose the true criminals. Spook Town is a classic example of the PRC western - low budget and high energy. The action breaks just long enough for radio star Jim Newill to deliver two rousing songs, keeping the pace at full gallop.
Product Description:
A ghost town seems like the ideal location for the Texas Rangers to hide some treasure. Unfortunately a bandit knows where the loot is, and hires some henchmen to track it down. A high-octane Western shoot-out occurs, with the Texas Rangers determined to hunt down, and expose, the shadowy bandit and his men.
Keywords:
Similar Products
Product Info
Sales Rank: 31,470
UPC: 089218418494
Shipping Weight: 0.28/lbs (approx)
International Shipping: 1 item