Voyage To The Prehistoric Planet
A spaceship is sent on a rescue mission to Venus where the crew has many strange encounters. Excellent special effects.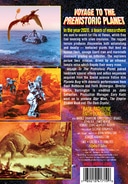 Price:
$

6

.90
List Price:
$8.98
You Save:
$2.08 (23% Off)
Available:
Usually ships in 5-7 business days
DVD-R Details
Rated: Not Rated
Run Time: 1 hours, 17 minutes
Video: Color
Encoding: Region 0 (Worldwide)
Released: May 20, 2003
Originally Released: 1965
Label: Alpha Video
Performers, Cast and Crew:
Entertainment Reviews:
Rating: 1/5 -- Bad Soviet sci-fi, recycled into worse U.S. sci-fi.
Description by OLDIES.com:
In the year 2020, a team of researchers are sent to search for life on Venus, which they find teeming with alien creatures. The rugged terrain produces discoveries both astonishing and deadly - tentacled plants that feed on human flesh, savage lizard men and mammoth dinosaurs grazing on hillsides. The explorers pursue their mission, driven by an ethereal female voice which haunts their every move.
Voyage To The Prehistoric Planet paired landmark special effects and action sequences acquired from the Soviet science fiction film Planeta Burg with dramatic performances from Basil Rathbone and Faith Domergue. Director Curtis Harrington is credited as John Sebastian. Production Manager Gary Kurtz went on to produce Star Wars, The Empire Strikes Back and The Dark Crystal.
Product Description:
Explorers are surprised to find that Venus is populated with prehistoric dinosaurs. Special effects scenes taken from the Russian science-fiction "Planeta Burg."
Keywords:
Movie Lovers' Ratings & Reviews:
Customer Rating:
Based on 2100 ratings.

Grainy But Substantial
Movie Lover:
Spencer Koelle
from
Media, PA US
-- July, 17, 2006
This movie is your classic "go to another planet and find monsters" film. No more, no less. Although the atmosphere was generally a little bleary and low-key for my tastes, I liked it. The alien monsters were savage and prehistoric, but didn't conform to traditional dinosaurs so much that they didn't look alien. The haunting music/voice could have been played up a little more, but maybe it's best that it was left with a tantalizingly mysterious ending.
Standard Scifi Planet Journey
Movie Lover:
Spencer Koelle
from
Media, PA US
-- July, 5, 2006
This movie delivered what I expected of it, no more, no less. The monsters were decent in quantity and quality, the pterosaur sculpture intriguing, and the unearthly singing voice was quite interesting. I wish the plot had allowed for more exploration of that, and I wonder what part those things played in the original russian film.
Marza Marza Marza!
Movie Lover:
Big Dix Flix
from
Hometown,USA
-- May, 5, 2004
Most of the scenes of this film are from a movie called Planeta Burr, a Russian film purchased by Roger Corman for a few rubles. The scenes with Basil are spliced in and the original Russian script re-written to make the action fit a new plot line. The original Russian version (which cannot be found anywhere) involves only two groups of Cosmonauts exploring Venus searching for Marza.
The same scenes are incorporated into "Voyage To The Planet of Prehistoric Women" wherein the name of Marza becomes the name of Earth based mission control.

Similar Products
Product Info
Sales Rank: 8,966
UPC: 089218417190
Shipping Weight: 0.27/lbs (approx)
International Shipping: 1 item