Young Buffalo Bill
Roy Rogers, as a young Bill Cody, portrays a land surveyor challenged to protect valuable mineral deposits from villains.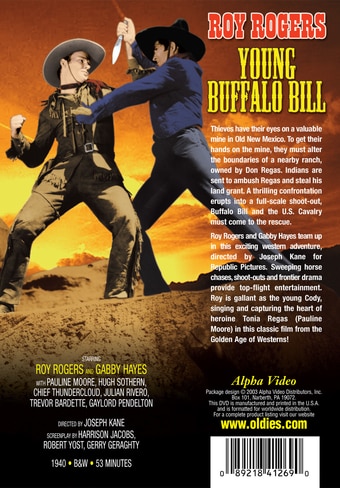 Price:
$

6

.90
List Price:
$8.98
You Save:
$2.08 (23% Off)
Available:
Usually ships in 5-7 business days
Also available in a set:
DVD Features:
Rated: Not Rated
Run Time: 53 minutes
Video: Black & White
Released: February 18, 2003
Originally Released: 1940
Label: Alpha Video
Encoding: Region 0 (Worldwide)
Packaging: Keep Case
Aspect Ratio: Full Frame - 1.33
Interactive Features:
Performers, Cast and Crew:
Entertainment Reviews:
Rating: B-
-- You're darn tootin', the usual Roy Rogers' hokum Western is afoot.
Full Review
Ozus' World Movie Reviews
Description by OLDIES.com:
Thieves have their eyes on a valuable mine in Old New Mexico. To get their hands on the mine, they must alter the boundaries of a nearby ranch, owned by Don Regas. Indians are sent to ambush Regas and steal his land grant. A thrilling confrontation erupts into a full-scale shoot-out, Buffalo Bill and the U.S. Cavalry must come to the rescue. Roy Rogers and Gabby Hayes team up in this exciting western adventure, directed by Joseph Kane for Republic Pictures. Sweeping horse chases, shoot-outs and frontier drama provide top-flight entertainment. Roy is gallant as the young Cody, singing and capturing the heart of heroine Tonia Regas (Pauline Moore) in this classic film from the Golden Age of Westerns!
Product Description:
A dispute about land ownership leads to a full-scale shoot-outs between the good 'ol cowboys and the fiery Indians. Only singing cowboy Roy Rogers (as Bill Cody) and the US Cavalry (with Gabby Hayes in tow) can put an end to this fierce battle. YOUNG BUFFALO BILL is an exciting western, complete with horse chases, gun battles, and frontier drama.
Keywords:
Movie Lovers' Ratings & Reviews:
Customer Rating:
Based on 265 ratings.

Singing Cowboys
Movie Lover:
John Walter
from
Middle Village, NY US
-- February, 10, 2009
I've never been much of a Roy Rogers fan - or of any singing cowboys now that I think of it - but this film's not bad and it's got Gabby Hayes in it, and "Gol Dang, it," any movie with him it worth a watching!
Similar Products
Product Info
Sales Rank: 6,673
UPC: 089218412690
Shipping Weight: 0.26/lbs (approx)
International Shipping: 1 item