Eyes In The Night
A resourceful blind detective solves a series of complicated crimes that culminate in murder.The film was directed by Academy Award winner Fred Zinnemann.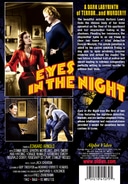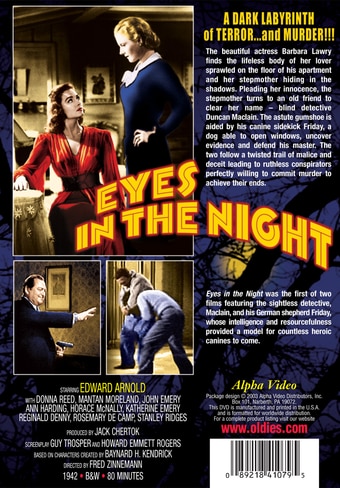 Price:
$

6

.90
List Price:
$8.98
You Save:
$2.08 (23% Off)
Available:
Usually ships in 5-7 business days
DVD Features:
Based On Characters Created By Baynard H. Kendrick
Rated: Not Rated
Run Time: 1 hours, 20 minutes
Video: Black & White
Released: February 18, 2003
Originally Released: 1942
Label: Alpha Video
Encoding: Region 0 (Worldwide)
Packaging: Keep Case
Aspect Ratio: Full Frame - 1.33
Performers, Cast and Crew:
Entertainment Reviews:
Rating: 3/4
-- Reed, who would later become known for her portrayal of a sugary sweet TV mom, is convincing as the willful, precocious stepdaughter.
Full Review
Rating: C+
-- Passable standard whodunit wartime B-thriller with an A-team cast.
Full Review
Ozus' World Movie Reviews
A minor but jolly slice of ingenious sleuthery.
Full Review
Rating: 4/5
-- Credit the Messrs. Zinnemann and Chertok with another hectic little pulse-quickener.
Full Review
Description by OLDIES.com:
The beautiful actress Barbara Lawry finds the lifeless body of her lover sprawled on the floor of his apartment and her stepmother hiding in the shadows. Pleading her innocence, the stepmother turns to an old friend to clear her name - blind detective Duncan Maclain. The astute gumshoe is aided by his canine sidekick Friday, a dog able to open windows, uncover evidence and defend his master. The two follow a twisted trail of malice and deceit leading to ruthless conspirators perfectly willing to commit murder to achieve their ends. Eyes in the Night was the first of two films featuring the sightless detective, Maclain, and his German shepherd Friday, whose intelligence and resourcefulness provided a model for countless heroic canines to come.
Product Description:
Edward Arnold stars as blind detective Captain Duncan McLain in this adaptation of Bernard H. Kendrick's novel "Odour of Violets". With help from his seeing-eye-dog Friday, McLain digs deep into a murder case that involves a pretty young woman's dead boyfriend and his missing body. Nazi spies, and the scent of violets are ultimately what leads Captain Mclain and Friday to the missing pieces of the puzzle.
Keywords:
Movie Lovers' Ratings & Reviews:
Customer Rating:
Based on 1985 ratings.

Terrific Film
Movie Lover:
John Walter
from
MIDDLE VILLAGE, NY US
-- September, 27, 2010
When you watch as many old movies as I do you see quite a few you quickly forget. But then, every once in a while, one comes along that you'll remember for story, acting, excitement, and just plain fun. And "Eyes in the Night" is such a film. Edward Arnold, Doona Reed, Reginal Denny, Rosemary DeCamp and a host of others do great jobs but they're all topped by Friday. What a dog!It's a murder film, a spy film, had a little humor, excitement about a blind detective, I'm sure you'll love it.
EYES IN THE NIGHT
Movie Lover:
Jane
from
Dearborn heights, MI US
-- November, 1, 2005
It was a great movie investment for the price!
Edward Arnold gives a wonderful performance as the Blind Detective, with his able seeing eye dog. This film is standard detective film noir for the period. Fast pace and good film quality, A movie worth viewing!
Great Thriller
Movie Lover:
Stephen Kopian
from
Glen Head, NY US
-- August, 24, 2004
This is a great thriller. I'd like to use the term mystery but after a half an hour we know who's behind the deed and we have to wait for our detective to capture the culprit. Edward Arnold makes a damn good detective, blind or not this is the guy you want on your side. Its a shame that there was only one more film with the character.
See this movie, its a great evenings entertainment.
Rather more believable than Daredevil
Movie Lover:
Charles Power
from
Columbia, MD US
-- March, 29, 2004
Sighted people seem to be in love with the idea that the blind are not all that seriously disadvantaged. This is, for the record, nonsense. However, the gifted blind (inevitably played by sighted actors) can be more or less believable. Edward Arnold's performance is thoroughly believable, and delightful, especially when he punches out a heavy who is supposed to be keeping him captive. The dog is a bit less believable, but who can hate a see-eye supercanine? The hidden delight of the flick is bitchy vixen Donna Reed. She comes out OK in the end, but the scene of her blackmailing her stepmother is a delight for those who know her as TV's ideal homemaker.
Similar Products
Product Info
Sales Rank: 12,154
UPC: 089218410795
Shipping Weight: 0.27/lbs (approx)
International Shipping: 1 item