I Eat Your Skin
A mad scientist on Voodoo Island creates zombies using atomic energy.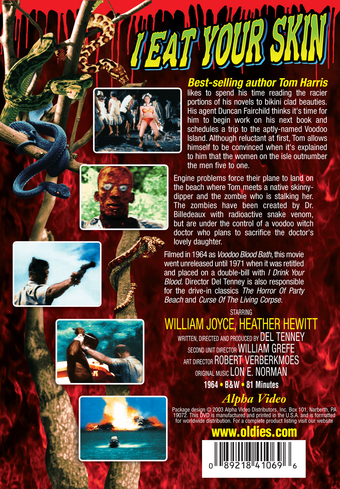 SALE:
$

5

.95
List Price:
$7.98
You Save:
$2.03 (25% Off)
Available:
Usually ships in 1-3 business days
More products that might interest you:
Classic Horror Collection: 20 Full Color Vintage Movie Postcards (Movie Collectible)
$7.98
DVD Features:
Second Unit Director William Grefe, Art Director Robert Verberkmoes
Rated: Not Rated
Run Time: 1 hours, 25 minutes
Video: Black & White
Released: February 18, 2003
Originally Released: 1964
Label: Alpha Video
Encoding: Region 0 (Worldwide)
Packaging: Keep Case
Aspect Ratio: Full Frame - 1.33
Performers, Cast and Crew:
Entertainment Reviews:
Rating: 1/5
-- An utterly square attempt at early-60s hipness.
Full Review
Description by OLDIES.com:
Best-selling author Tom Harris likes to spend his time reading the racier portions of his novels to bikini clad beauties. His agent Duncan Fairchild thinks it's time for him to begin work on his next book and schedules a trip to the aptly-named Voodoo Island. Although reluctant at first, Tom allows himself to be convinced when it's explained to him that the women on the isle outnumber the men five to one. Engine problems force their plane to land on the beach where Tom meets a native skinny-dipper and the zombie who is stalking her. The zombies have been created by Dr. Billedeaux with radioactive snake venom, but are under the control of a voodoo witch doctor who plans to sacrifice the doctor's lovely daughter. Filmed in 1964 as Voodoo Blood Bath, this movie went unreleased until 1971 when it was retitled and placed on a double-bill with I Drink Your Blood. Director Del Tenney is also responsible for the drive-in classics The Horror Of Party Beach and Curse Of The Living Corpse.
Product Description:
A companion to "I Drink Your Blood" -- not really. Originally titled "Voodoo Blood Bath" this film about a mad scientist creating radioactive monsters on a remote island was purchased 7 years after it was made and retitled. No cannibalism.
Keywords:
Movie Lovers' Ratings & Reviews:
Customer Rating:
Based on 1769 ratings.

Voodoo zombies, that's great!
Movie Lover:
Taysia Nichols
from
Tyler, TX
-- February, 16, 2009
I liked it, it was an instant old school classic. I love the mexican decapitation, it holds true to what you would expect from a classic such as this. Imagine Scooby Doo but without that annoying dog and that whole little crew, oh and you can't forget the murders!
I LOVED IT!!! But.....
Movie Lover:
Max Howig
from
Eudora, KS
-- September, 7, 2007
I award this film 2 stars from a technical and nit-picky point of view on account of bad dialogue and stupid plot, but as for just pure enjoyment this movie is THE BEST! It is not a "so-bad-its-funny" film, like Ed Woods's "Plan 9", instead it makes for a great viewing among friends and gives contemporary audiences the true feel of typical 1960's cheesey thrillers. Also....THE MUSIC RULES!!! The opening title music is so cool, that authentic sixies' guitar tremolo tone, the orchestra backin it up, the primal jungle beat of the drums... Actually, the guitar riff from the opening titles is one of my favorites to play (all my friends say its one of the creepiest things theve ever heard on guitar). But enough about the music. I will compliment this movie for its VERY unique and original zombie-transformation scenes, which are pretty disturbing. Also, the the scene where the nice elderly native gets decapitated is pretty far-out-there for 1964 (and right after he helped the protagonist find the island settlement...sob). This is one of my favorite low-budget horror films to watch, although is IS rather sexist (paticularly at the begining), AND that scene where the plane is about to take off, but is halted by a self-distructive zombie holding a crate that is stupidly labeled "dynamite", is pretty bad...but funny!
One of the best zombies movies ever!
Movie Lover:
Bryan Gomez
from
Mother Earth
-- March, 25, 2004
I've read a lot about this little movie, mostly bad things that is. When I saw it at a store, I had to buy it, just to see what the fuss was about. First off, the title doesn't fit the movie since no one actually eats any skin. Instead, this movie is about zombie slaves... instead of the Romero zombies. The movie is about a group of two men, and one woman who head to an island known as Voodoo Island. Once there, they are thrown into trouble, as zombies rampage througout the island. It takes the movie a long time to actually get interesting, but once it does... it's worth it. The zombies look so funny in this movie, but it adds to its kooki-ness. So anyone with an open mind to the weird movies of the cinema, give this little gem a try.
Similar Products
Product Info
Sales Rank: 22,221
UPC: 089218410696
Shipping Weight: 0.27/lbs (approx)
International Shipping: 1 item