Road To Bali
Bob Hope and Bing Crosby join Dorothy Lamour in this hilarious song filled "Road" movie.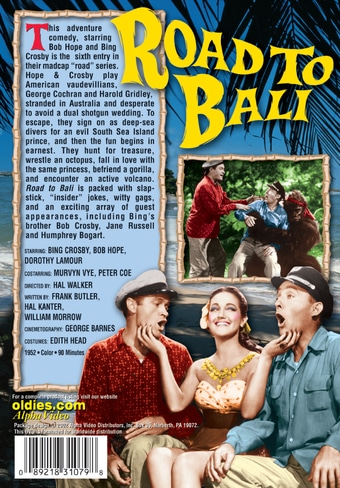 Price:
$

7

.30
List Price:
$8.98
You Save:
$1.68 (19% Off)
Available:
Usually ships in 5-7 business days
Also released as:
DVD Features:
Costumes by Edith Head
Rated: Not Rated
Run Time: 1 hours, 30 minutes
Video: Color
Released: July 30, 2002
Originally Released: 1952
Label: Alpha Video
Encoding: Region 0 (Worldwide)
Packaging: Keep Case
Aspect Ratio: Full Frame - 1.33
Performers, Cast and Crew:
Entertainment Reviews:
Bob Hope and Bing Crosby keep the quips flying at a machine-gun pace.
Full Review
Rating: 2/5 -- By this point of the road, the fun has become thin and repetitive.
Rating: C+
-- Follows the usual formula for these Crosby-Hope road movies.
Full Review
Ozus' World Movie Reviews
Rating: 3/5 -- Even in color, this 'Road' picture seems a little tired
Mountain Xpress (Asheville, NC)
Rating: B
-- Though not as funny as Road to Morocco and Road to Utopia, this 91-minute comedy is a good place to start for families with younger children because it is color and because Road to Bali is a kitchen sink film.
Full Review
Some of the roguish partners' mugging at the camera and sly personal "asides" may get on your nerves once or twice, but in most respects this is an acceptable sequel...
Full Review
Description by OLDIES.com:
This adventure comedy, starring Bob Hope and Bing Crosby is the sixth entry in their madcap Road series. Hope & Crosby play American vaudevillians, George Cochran and Harold Gridley, stranded in Australia and desperate to avoid a dual shotgun wedding. To escape, they sign on as deep-sea divers for an evil South Sea Island prince, and then the fun begins in earnest. They hunt for treasure, wrestle an octopus, fall in love with the same princess, befriend a gorilla, and encounter an active volcano. Road to Bali is packed with slapstick, "insider" jokes, witty gags, and an exciting array of guest appearances, including Bing's brother Bob Crosby, Jane Russell and Humphrey Bogart.
Product Description:
The only color road picture Bob Hope and Bing Crosby ever made, the inimitable comedy duo set out to rescue a native princess, the lovely Dorothy Lamour, from a plethora of jungle dangers. Guest appearances by Dean Martin, Jerry Lewis, and Jane Russell.
Plot Synopsis:
George and Harold are two vaudevillians forced to hightail it out of Australia by a young woman's overprotective father. The wisecracking duo end up on the island of Bali, where they soon go to work for Prince Arok -- and become smitten with the princess, Lalah. But when George and Harold discover that Arok intends to steal a treasure belonging to Lalah, they try to foil his greedy plans. Will they win the princess' heart if they succeed'
Keywords:
Production Notes:
Shot in three-strip Technicolor.
This "road movie" is the sixth in the series, and the only one in color.
Feature film debut of actress Carolyn Jones.
Movie Lovers' Ratings & Reviews:
Customer Rating:
Based on 9628 ratings.

On the Road Again
Movie Lover:
FilmFlops Critic
from
Trumbull, CT US
-- April, 21, 2004
Hope, Crosby and Lamour; a terrific trio that delivers solid entertainment from start to finish. The ROAD movies are just plain fun; the wisecracks come fast and furious. The stars don't take themselves seriously and they seem to enjoy what they're up to in each movie. ROAD TO BALI is no exception, filled with in-jokes, sight gags, forgettable songs and general silliness guaranteed to keep you laughing. If Alpha Video would only get their hands on more of these comic gems...
Classic Bob Hope & Bing Crosby picture.
Movie Lover:
J. A. Prince
from
Oklahoma
-- September, 22, 2003
This is a great comedy for any classic collection. It's good to see a comedy that dosen't have to be insultive or with foul language. This is a movie that you can also watch with your young ones and not have to worry about the content.
The thing about these "Road" movies is that Hope & Crosby also involves the viewer with inside jokes, like when Hope says about Crosby,"He's going to sing, now you can go get the popcorn!" Now, all six "Road to" pictures need to be brought out on DVD. How about making a Road to box collection?
The movie is crisp & clear with decent sound. There are no extras, but with this price, DVDs never have any.
Similar Products
Product Info
Sales Rank: 4,256
UPC: 089218310798
Shipping Weight: 0.25/lbs (approx)
International Shipping: 1 item