Case Closed: Dubious Intent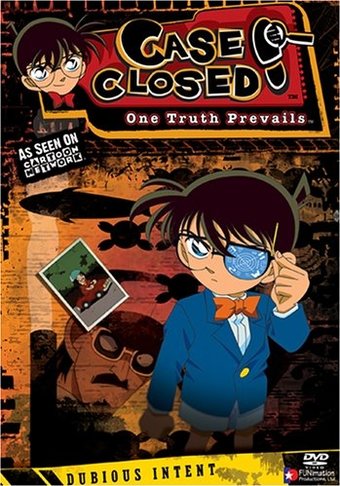 SALE:
$

3

.98
List Price:
$29.98
You Save:
$26 (87% Off)
Currently Out of Stock:
We'll get more as soon as possible
DVD Features:
Video: Color
Label: Funimation
Encoding: Region 1 (USA & Canada)
Packaging: Keep Case
Unedited
Aspect Ratio: Full Frame - 1.33
Audio:

(unspecified) - Japanese
Dolby Digital 5.1 - English
Subtitles - English - Optional

Additional Release Material:

Bonus Footage: Textless Songs

Interactive Features:

Trivia Game - Crack the Case Game

Text/Photo Galleries:

Character Profiles
Conan's Gadgets

Additional Products:

Insert in English - Advertising

Episodes:
"Movie Mayhem"
"The Three Fingerprints"
"The Crab and Whale"
Entertainment Reviews:
Product Description:
Still a high school student, teenage supersleuth Jimmy Kudo is already one of the most respected detectives around, and his crime-solving skills often come in handy with the local police force. But when Jimmy's detective work intrudes upon the illegal activities of a sinister crime syndicate, its members poison the teen with a drug that shrinks him to the size of a seven-year-old child. Adopting the alias Conan (in honor of the famed Sherlock Holmes author), the pint-sized Jimmy continues to solve baffling cases--as well as search for an antidote to his condition--with the help of a pair of bumbling police detectives, a kindly scientist neighbor, and a closeknit group of friends. This volume continues the crime-solving Animé series CASE CLOSED with three more episodes.