Suddenly
A small town is visited by a professional assassin who intends on killing the president of the United States. Frank Sinatra's performance in this high tension thriller is truly memorable.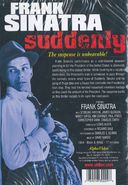 Price:
$

6

.90
List Price:
$8.98
You Save:
$2.08 (23% Off)
Available:
Usually ships in 5-7 business days
Also released as:
DVD Features:
Rated: Not Rated
Run Time: 1 hours, 17 minutes
Video: Black & White
Released: April 16, 2002
Originally Released: 1954
Label: Alpha Video
Encoding: Region 0 (Worldwide)
Packaging: Keep Case
Aspect Ratio: Full Frame - 1.33
Performers, Cast and Crew:
Entertainment Reviews:
Rating: B-
-- What I liked best was that Frank [Sinatra] wore a fedora throughout, even indoors.
Full Review
Ozus' World Movie Reviews
Rating: B
-- If you remove the hokum--the overly obvious and period-wholesome nonsense that frames the main narrative--Suddenly is a taut thriller in the Key Largo mold.
Full Review
The film is promising and wonderful, needing only a very few minutes' editing down.
Full Review
Rating: 2.5/4
-- ...a decent (and appreciatively brisk) little B movie.
Full Review
...Frank Sinatra played his only screen villain in the brief pocket of time between his FROM HERE TO ETERNITY comeback and the second-career tidal wave -- portraying, to chilling effect, a master sniper...
Some of the characters are rather thinly imagined but Frank Sinatra as the chief killer proves again (as he did last year in From Here to Eternity) that he doesn't need to sing to keep his name in lights.
Full Review
Description by OLDIES.com:
Frank Sinatra's performance as a cold-blooded assassin planning to kill the President of the United States is absolutely spellbinding in this classic thriller. While traveling to a vacation destination, the President's train is scheduled to pass through the normally serene small town of Suddenly. Sinatra and his gang of thugs take over a house that overlooks the Presidential train stop. They hold the terrified household members hostage as they await the ambush of the President. The suspense builds as this thriller rockets to its rapid-fire conclusion.
Product Description:
A tense, somewhat prescient drama in which Frank Sinatra plays a psychopathic triggerman hired to kill the United States President. On the way he and his two partners take over a widow's house, which is perfectly situated for an ambush. After Kennedy's assassination, the film was shelved and Sinatra tried to have the prints destroyed.
Keywords:
Similar Products
Product Info
Sales Rank: 20,983
UPC: 089218302298
Shipping Weight: 0.27/lbs (approx)
International Shipping: 1 item