The Knoxville Sessions 1929-1930: Knox County Stomp (4-CD)
by Various Artists
With this set, Bear Family completes the map of commercial recording in East Tennessee in the late 1920s & early 1930s.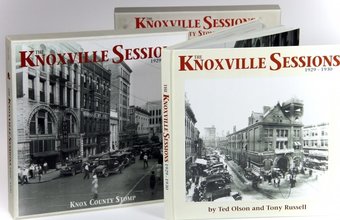 SUPER SAVINGS:
$

152

.90 Limited Time Only
List Price:
$174.99
You Save:
$22.09 (13% Off)
Available:
Usually ships in 1-3 business days
CD Details
Number of Discs: 4
Released: August 12, 2016
Originally Released: 2016
Label: Bear Family
Description by OLDIES.com:
The third compendium of early country music talent in Appalachia, along with 'The Bristol Sessions' and 'The Johnson City Sessions'.

The Knoxville Sessions, 1929-30: Knox County Stomp features the music made at two sessions conducted by Brunswick Records at downtown St. James Hotel--music remarkable both for its variety and for the rarity of the records that preserved it.

Whereas the recordings made in Bristol and Johnson City were almost exclusively of old-time country and gospel music, the Knoxville sessions captured a more diverse gathering of Appalachian voices and sounds. Amidst old-time stringbands like the Tennessee Ramblers, the Southern Moonlight Entertainers, and the Smoky Mountain Ramblers, we also hear the majestic African American blues and gospel singer Leola Manning, the hot dance music of Maynard Baird & His Southern Serenaders, the virtuoso string ragtime of Howard Armstrong and the Tennessee Chocolate Drops, sacred songs by white and African American quartettes, songsters such as Will Bennett and Haskell Wolfenbarger, a unique recorded playlet about the Hatfield-McCoy feud--and even an address by the businessman whose enterprise brought Brunswick Records to Knoxville, Colonel J. G. Sterchi, president of the famous Sterchi Bros. furniture store chain.

The Knoxville Sessions, 1929-1930: Knox County Stomp gathers together, for the first time, all the issued recordings made at the St. James Hotel, remastered from the original 78s--some of them so elusive that only single copies are known to exist. These 99 fascinating performances, on four CDs, are accompanied by a 156-page, LP-sized hardcover book containing essays on the history of Knoxville, the background to the sessions, and the individual artists, much of the material based on new research. The book is also filled with scores of rare photographs, many previously unpublished, as well as complete song lyrics and a detailed discography with 250 illustrations.
Tracks on Disc 1:
1.

Garbage Can Blues - The Tennessee Ramblers

2.

Tennessee Traveler - The Tennessee Ramblers

3.

Ramblers March [Instrumental] - The Tennessee Ramblers

4.

In My Dear Old Sunny South - The Tennessee Ramblers

5.

Hawaiian Medley [Instrumental] - The Tennessee Ramblers

6.

Give the Fiddlers a Dram - The Tennessee Ramblers

7.

My Carolina Girl - Southern Moonlight Entertainers

8.

Are You Happy or Lonesome - Southern Moonlight Entertainers

9.

Lost John - Southern Moonlight Entertainers

10.

My Cabin Home - Southern Moonlight Entertainers

11.

My Blue Ridge Mountain Queen - Southern Moonlight Entertainers

12.

Dream Waltz [Instrumental] - Southern Moonlight Entertainers

13.

Sister Liz - Southern Moonlight Entertainers

14.

Buckin' Mule - Southern Moonlight Entertainers

15.

Hallelujah to the Lamb - Ridgel's Fountain Citians

16.

Be Ready - Ridgel's Fountain Citians

17.

Free Little Bird - Ridgel's Fountain Citians

18.

Little Bonnie - Ridgel's Fountain Citians

19.

Yellow Dog Blues [Instrumental] - Wise String Orchestra

20.

How Dry I Am - Wise String Orchestra

21.

Railroad Bill - Will Bennett

22.

Real Estate Blues - Will Bennett

23.

My Little Girl - Haskell Wolfenbarger

24.

Sailing Out on the Ocean - Haskell Wolfenbarger

25.

He Cares for Me - Leola Manning

26.

He Fans Me - Leola Manning

27.

Old Black Crow in the Hickory Nut Tree - Ballard Cross

28.

My Poodle Dog - Ballard Cross
Tracks on Disc 2:
1.

Wabash Cannon Ball, The - Ballard Cross

2.

Lorrainna - Ballard Cross

3.

Double Eagle March - Cal Davenport & His Gang

4.

Broken Hearted Lover - Cal Davenport & His Gang

5.

Little Rosewood Casket - Cal Davenport & His Gang

6.

Blue Ridge Mountain Blues - Cal Davenport & His Gang

7.

Down Where the Swanee River Flows - Ballard Cross

8.

Won't You Waltz Home Sweet Home With Me - Ballard Cross

9.

In My Saviour's Care - Senior Chapel Quartette

10.

Great Judgment, The - Senior Chapel Quartette

11.

Lonesome Road - Senior Chapel Quartette

12.

Way Down Home - Senior Chapel Quartette

13.

Sorry - Maynard Baird & His Southern Serenaders

14.

Just for You - Maynard Baird & His Southern Serenaders

15.

To My Friends and Patrons - Colonel J.G. Sterchi

16.

Cal West's Yodel Blues, Pt. 1 - Cal West

17.

Cal West's Yodel Blues, Pt. 2 - Cal West

18.

San Antonio - Smoky Mountain Ramblers

19.

Back to Old Smoky Mountain - Smoky Mountain Ramblers

20.

Ain't It Hell, Boys - Smoky Mountain Ramblers

21.

Down in Tennessee - Smoky Mountain Ramblers

22.

I'm Sad and Blue - Perry County Music Makers

23.

Maudaline - Perry County Music Makers

24.

Got a Buddy I Must See - Perry County Music Makers

25.

By the Cottage Door - Perry County Music Makers
Tracks on Disc 3:
1.

I'm on My Way - Kentucky Holiness Singers

2.

I Will Not Be Removed - Kentucky Holiness Singers

3.

No Business of Mine - Smoky Mountain Ramblers

4.

Bear Mountain Rag - Smoky Mountain Ramblers

5.

Hard for to Love - Appalachian Vagabond

6.

Peddler and His Wife - Appalachian Vagabond

7.

Where the Sweet Magnolias Bloom - Lester McFarland / Robert A. Gardner

8.

My Little Georgia Rose - Lester McFarland / Robert A. Gardner

9.

Goodbye Dixie Dear - Claude Davis / Gibbs Brothers

10.

Do You Think That You Could Love Me - Claude Davis / Gibbs Brothers

11.

You Left Me Last Night Broken Hearted - Claude Davis / Gibbs Brothers

12.

Strolling Home With Jenny - Claude Davis / Gibbs Brothers

13.

I Love My Toodlum-Doo - Claude Davis / Gibbs Brothers

14.

I Wandered Away From Home - Claude Davis / Gibbs Brothers

15.

Lookout Valley Waltz - Clayton & His Melody Mountaineers

16.

June Wedding Waltz - Clayton & His Melody Mountaineers

17.

Knox County Stomp - Tennessee Chocolate Drops / Tennessee Trio

18.

Vine Street Rag - Tennessee Chocolate Drops / Tennessee Trio

19.

I've Grown So Used to You - Lester McFarland / Robert A. Gardner

20.

Unmarked Grave, The - Lester McFarland / Robert A. Gardner

21.

Mansion of Aching Hearts, The - Lester McFarland / Robert A. Gardner

22.

Will the Roses Bloom in Heaven - Lester McFarland / Robert A. Gardner

23.

Asleep at the Switch - Lester McFarland / Robert A. Gardner
Tracks on Disc 4:
1.

Bald Headed End of the Broom, The - Ridgel's Fountain Citians

2.

Nick Nack Song, The - Ridgel's Fountain Citians

3.

Baby Call Your Dog Off - Ridgel's Fountain Citians

4.

Gittin' Upstairs - Ridgel's Fountain Citians

5.

It's Funny What Whiskey Will Do - Louis Bird

6.

Nothing Goes Hard With Me - Louis Bird

7.

Then I'll Move to Town - Southern Moonlight Entertainers

8.

How to Make Love - Southern Moonlight Entertainers

9.

Arcade Building Moan, The - Leola Manning

10.

Satan Is Busy in Knoxville - Leola Manning

11.

Laying in the Graveyard - Leola Manning

12.

Blues Is All Wrong, The - Leola Manning

13.

If You Think I'm Not Worthy - Bess Pennington

14.

Jack and May - Bess Pennington

15.

Lynchburg - Uncle Jimmy Thompson

16.

Uncle Jimmy's Favorite Fiddling Pieces: Flying Clouds&Leather Breeches - Uncle Jimmy Thompson

17.

Walking With My Lord - Etowah Quartet

18.

Back in the Years - Etowah Quartet

19.

Postage Stomp - Maynard Baird & His Orchestra

20.

I Can't Stop Loving You - Maynard Baird & His Orchestra

21.

L. and N. Rag - Alex Hood & His Railroad Boys

22.

Corbin Slide - Alex Hood & His Railroad Boys

23.

Great Hatfield-McCoy Feud, Pt. 1, The - Lowe Stokes / Roger Williams / Homer Miller / Heavy Martin / Bill Brown / Walt McKinney / Roger Williams

24.

Great Hatfield-McCoy Feud, Pt. 2, The - Lowe Stokes / Roger Williams / Homer Miller / Heavy Martin / Bill Brown / Walt McKinney / Roger Williams

25.

Great Hatfield-McCoy Feud, Pt. 3, The - Lowe Stokes / Roger Williams / Homer Miller / Heavy Martin / Bill Brown / Walt McKinney / Roger Williams

26.

Great Hatfield-McCoy Feud, Pt. 4, The - Lowe Stokes / Roger Williams / Homer Miller / Heavy Martin / Bill Brown / Walt McKinney / Roger Williams
Similar Products
Product Info
Sales Rank: 1,681
UPC: 5397102160974
Shipping Weight: 5.04/lbs (approx)
International Shipping: 4 items