Deliver Us from Eva (Blu-ray)
R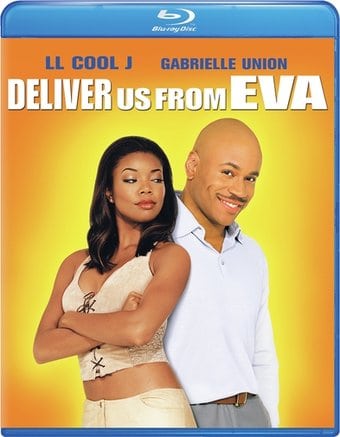 Price:
$

17

.70
List Price:
$21.95
You Save:
$4.25 (19% Off)
Available:
Usually ships in 5-7 business days
Blu-ray BD-R Details
ORIGINAL ASPECT RATIO - 1.85:1
Rated: R
Run Time: 1 hours, 46 minutes
Video: Color
Encoding: Region 0 (Worldwide)
Released: April 17, 2018
Originally Released: 2003
Label: Universal Pictures Home Entertainment
Performers, Cast and Crew:
Entertainment Reviews:
Rating: 2.5/5
-- For the most part, Deliver Us From Eva is a pretty enjoyable, if predictable, romantic comedy.
Full Review
Rating: 3/5
-- The fact that there's little new in the roundabout urban updating of Shakespeare's The Taming of the Shrew detracts not a whit from its charms, most of which come from leads LL Cool J and Gabrielle Union.
Full Review
Rating: 4/5
-- Above average movie for high schoolers.
Full Review
Rating: 3/4
-- Smith and Union overcome the sometimes-strained mechanics of the plot.
Full Review
The simplistic approach to the material will no doubt please undiscriminating viewers, while those who've seen any romantic comedy will be consistently several steps ahead of the characters.
Full Review
Rating: 2/4
-- Any romantic comedy that gives you time to think probably isn't doing its job.
Full Review
Stuff like that happens only in sitcoms and bad movies ...
Full Review
Description by OLDIES.com:
Her sisters think she's a gift from heaven. Their husbands call her the sister-in-law from hell. But Eva (Gabrielle Union) is too busy being a smart, sassy, overprotective overachiever to really care what anyone thinks. That is until the guys decide the only way they will ever score any quality time with their women is to find single Eva a man. Pronto. Enter Ray (LL Cool J), an ultra-suave players player who is hired to make Eva fall madly in love with him. All goes according to plan until this ladies man finds himself unexpectedly falling for this beautiful woman.

Similar Products
Formats:
Genres:
Product Info
Sales Rank: 69,795
UPC: 191329053898
Shipping Weight: 0.25/lbs (approx)
International Shipping: 1 item