Mr. Lobo sets out to prove he's the greatest horror host of all time by presenting this lost classic (possibly) written by bad movie legend Ed Wood.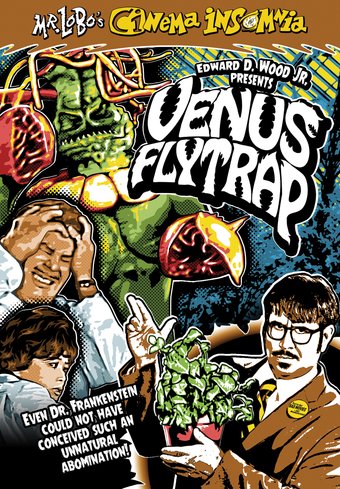 SALE:
$

5

.95
List Price:
$7.98
You Save:
$2.03 (25% Off)
Available:
Usually ships in 1-3 business days
DVD-R Details
Run Time: 1 hours, 57 minutes
Video: Color/black & White
Encoding: Region 0 (Worldwide)
Released: February 15, 2022
Originally Released: 2011
Label: Alpha Video
Performers, Cast and Crew:
Entertainment Reviews:
Description by OLDIES.com:
Mister Lobo celebrates 20 years of hosting his show
Cinema Insomnia
. In the tradition of those classic horror shows like
Chiller Theatre
and
Creature Features
, host Lobo appears in brief vignettes between segments of the "late late night movie." Each episode begins with Mr. Lobo promising to screen a bonafide sci-fi/horror classic, only to have the rug pulled out from under him when he is told that a cheap public domain movie has to be shown instead. Various and sundry wacky characters have appeared over the show's two-decade run – including houseplant sidekick Miss Mittens. There are even satirical commercials, like the ever-popular 'Rad Adams: Skateboard Attorney.'
Cinema Insomnia
has been seen on hundreds of local television and cable channels, and Lobo continues to be a regular guest at conventions like Wondercon and Monster Bash. He was even unmasked as one of the monsters on
Scooby-Doo
. Known as an authority on "Bad Movies", Mr. Lobo lives by the motto, "They're not bad movies...just...
misunderstood
."
Give your friends "Venus Envy" with this one-of-a-kind collectible DVD from Cinema Insomnia's 10th anniversary season! Mr. Lobo presents Venus Flytrap, a low-budget monster movie made in Japan by writer-director Norman Thomson, supposedly working from a story written by none other than the king of B-movies himself, Edward D. Wood, Jr.! Very little can be certain about the production of this bizarre tale of a grouchy scientist who breeds a man-eating plant, as the film was completely unknown in America until a VHS copy was found in a furniture warehouse! But there's no denying that it features classic Wood-ian dialogue like "My mind isn't working. There's so many…things!" and "How can anybody be so utterly stupid as to build a rocket base on the coast of Florida?" And in the wraparound segments, Mr. Lobo goes all out trying to outdo his horror host rivals, proving he has even bigger boobs than Elvira (cleavage provided by Mrs. Lobo) and that he can "riff" just as well as the cast of a certain cowtown puppet show! It's almost 2 hours of slumber party fun brought to you through the miracle of ED WOOD-O-VISION and Edward D-colorization!