The Scavengers
A reformed smuggler searches for his beautiful missing wife while scouring the filthy underbelly of Hong Kong. Directed by John Cromwell (The Enchanted Cottage, Prisoner of Zenda, Of Human Bondage).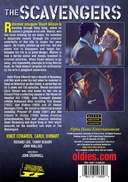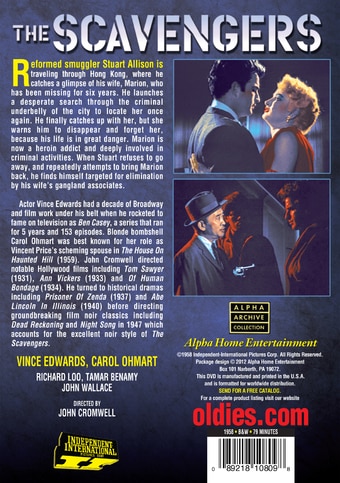 SALE:
$

5

.95
List Price:
$7.98
You Save:
$2.03 (25% Off)
Available:
Usually ships in 1-3 business days
DVD Features:
Rated: Not Rated
Run Time: 1 hours, 19 minutes
Video: Black & White
Released: December 26, 2012
Originally Released: 1958
Label: Alpha Video
Encoding: Region 0 (Worldwide)
Performers, Cast and Crew:
Entertainment Reviews:
Description by OLDIES.com:
Reformed smuggler Stuart Allison is traveling through Hong Kong, where he catches a glimpse of his wife, Marion, who has been missing for six years. He launches a desperate search through the criminal underbelly of the city to locate her once again. He finally catches up with her, but she warns him to disappear and forget her, because his life is in great danger. Marion is now a heroin addict and deeply involved in criminal activities. When Stuart refuses to go away, and repeatedly attempts to bring Marion back, he finds himself targeted for elimination by his wife's gangland associates.
Actor Vince Edwards had a decade of Broadway and film work under his belt when he rocketed to fame on television as "Ben Casey," a series that ran for 5 years and 153 episodes. Blonde bombshell Carol Ohmart was best known for her role as Vincent Price's scheming spouse in The House On Haunted Hill (1959). John Cromwell directed notable Hollywood films including Tom Sawyer (1931), Ann Vickers (1933) and Of Human Bondage (1934). He turned to historical dramas including Prisoner Of Zenda (1937) and Abe Lincoln In Illinois (1940) before directing groundbreaking film noir classics including Dead Reckoning and Night Song in 1947, which accounts for the excellent noir style of The Scavengers.
Product Description:
This early independent thriller stars Vince Edwards as Stuart. a hard boiled American trafficking stolen goods in the Far East. Desperate to leave the smuggler's life, Stuart gets a shock when he sees his long missing wife on a boat in a Hong Kong port. Deciding to follow her, Stuart ends up embroiling himself further in the business he wants to leave.
Keywords:
Similar Products
Product Info
Sales Rank: 8,238
UPC: 089218108098
Shipping Weight: 0.25/lbs (approx)
International Shipping: 1 item